Makeup Brush – PRO FOUNDATION
November 20, 2022
SAPPHO NEW PARADIGM
Makeup Brush – PRO FOUNDATION
$34.00 $
Sappho New Paradigm Makeup Brush- Pro Foundation is a high quality vegan brush to elevate your foundation application. It is one of the best tools to achieve flawless makeup. Super densely packed bristles created as a perfect accoutrement to SAPPHO's Essential Foundation, for both at-home use and for professional makeup artists.
ABOUT THE BRAND

SAPPHO's products are formulated for performance by experts and designed by JoAnn, an Emmy-nominated makeup artist. They offer products which blend impeccably with all skin types. Created with the finest certified organic ingredients, infused with phytonutrients and tested by professional makeup artists, the performance of this line proves that using organic makeup products is truly an upgrade.

INGREDIENTS

Professional Foundation Brush.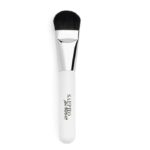 Makeup Brush - PRO FOUNDATION