The Advanced Response Complex Rapid Regenerating Firming Face | Neck Cream
February 17, 2022
MAYA CHIA
The Advanced Response Complex Rapid Regenerating Firming Face | Neck Cream
$125.00 $
Free U.S. Shipping, No MinimumSubscribers Save 15% In Our Retail Shops Every Day!
Maya Chia The Advanced Response Complex Rapid Regenerating Firming Face | Neck Cream
What is it? The Advanced Response Complex is an innovative formulation that encourages the skin's own response mechanisms to help regenerate, firm, brighten, smooth and reduce fine lines and wrinkles.
Notes from the Curator: The Advanced Response Complex can be used as a face and neck cream. This unique formulation diminishes the look of fine lines and wrinkles upon application while delivering long-term results.
Let's Get Nerdy: Plant-Transforming Growth Factor Beta-2 (plant-TGFβ2), Super Antioxidants Chebula and Astaxanthin, Multiple Sources of Peptides, Proprietary Amino Acid Blend, Fermented Minerals and High-Quality Vitamins all work together to feed your skin the foundational elements of what it needs to be its most youthful incarnation.
Size: 50ml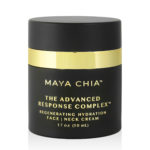 The Advanced Response Complex Rapid Regenerating Firming Face | Neck Cream