You cannot add "Moana Mask" to the cart because the product is out of stock.
HONUA SKINCARE
What is it? Moana mask is hydrating, brightening, plumping and revitalizing on the skin.
Notes from the Curator: This mask draws ingredients from our precious ocean, such as limu ko'a or Hawaiian spirulina, a blue green algae that is high in antioxidants and is known to boost cell regeneration to help with premature aging.
Let's Get Nerdy: Did you know Moana means Ocean in Hawaiian? The magic in Moana Mask comes from ingredients found throughout Hawaiian islands and ocean! It includes Laukahi a potent skin healing plant used for centuries in traditional medicine and Limu Ko'a hawaiian algae/spirulina high in anti-oxidants and boosts cell regeneration.
Out of stock
Join The Waitlist
We will inform you when the product is back in stock. Please leave your valid email address below.
About the Brand

Kapua Browning founded Honua Hawaiian Skincare in 2015, when the demand for her Hawaiian crafted products grew beyond her treatment room. Born and raised on O'ahu as an avid surfer and beach girl, Kapua began to notice sun damage and pigmentation in her own complexion as early as her 20's. In an attempt to take care of her skin, she became passionate about beauty and began to train in aesthetics and learn about traditional Hawaiian healing and medicinal herbs. After a decade of experience as a licensed esthetician, and extended training in herbalism and product development, Browning began the building blocks for her own hand-crafted skincare collection, Honua Skincare.

How to Use

Use 1-2x weekly after cleansing with the Pa'akai Cleansing Cream.
Massage a dime-nickel size amount over entire face and
let it work its magic for 10-15 minutes or even longer if you choose.
Rinse or towel off with cool water.
Follow with Hawaiian Beauty Water or go directly to Aloha Youth Serum to lock in hydration.

Ingredients

Hawaiian Honey
French Green Clay
Kaolin Clay
Bentonite Clay
Hawaiian Spirulina
Laukahi (Hawaiian Plantain)
Lau Comfrey
Licorice root
'Olena(Hawaiian Turmeric)
Aloe Vera leaf
Witch Hazel leaf
Hawaiian Sandalwood Oil and Hydrosol
Neroli Hydrosol
Bulgarian Rose Hydrosol
Tamanu
Macadamia Nut Oil
Coconut Vegetable Glycerin
Wheat Germ Oil
Willow Bark Extract
Jasmine CO2
Essential Oils of Neroli, Loke/Rose, Petitgrain, Red Mandarin, Sweet Orange
Antioxidants of Sage, Rosemary
Sodium Benzoate (hydrosol preservation)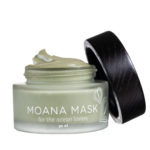 Out of stock
Join The Waitlist
We will inform you when the product is back in stock. Please leave your valid email address below.