Moonlit Jasmine Hydramist
March 30, 2023
Moonlit Jasmine Hydramist
$58.00 $
Free U.S. Shipping, No MinimumSubscribers Save 15% In Our Retail Shops Every Day!
What is it? Moonlit Jasmine Hydramist is a sensorial, hydrating experience to soothe the skin & spirit. Leading you to a lush moonlit garden just as the jasmine petals begin to open. Releasing their delicate perfume as the air is still warm from the afternoon sun. Dancing with hints of lavender from afar to connect the heart and mind on a path of deep reflection.
Notes from the Curator: Please note the jasmine extract used is more mellow as compared to an absolute, truer to the flower's scent. You will also notice hints of lavender and fresh green notes. We find it dissipates quickly to not overburden the senses in your skincare routine.
Let's Get Nerdy: Dispersed as a lightweight mist that's beneficial for all skin types. Balancing the skin's pH, incorporating copious hydration, calming irritation, encouraging elasticity, and improving the absorption of plant compounds from each step in your facial ritual.
Nutrient-rich botanicals are carried in a vibrational hydro-distillation of local Lavender where the four elements of fire, water, earth, and air come together in an alchemical dance. A process said to capture the ancient intelligence and memories of the plants used.
An exquisite organic Jasmine extract that's free of solvents such as hexane which is commonly used to make absolutes. Working in harmony with the other herbal extracts to clarify and even out skin tone. On an emotional level, it supports the nervous system to reduce stress.
Tamarind Seed Extract (TSE) has shown parallels with Hyaluronic Acid (HA) to effectively hydrate and visibly plump and soften. TSE is sustainably harvested and gives additional life to seeds that would otherwise be discarded. Abundant in a special class of polysaccharides (long sugar molecules) called xyoglucans. This compound binds water molecules to the skin in a gentle, bioavailable process.
Oats soothe irritated, sensitive skin and can increase moisture when paired with other humectants like TSE.
Nettles, Lemon Balm, Elder Flower, and Plantain provide a menagerie of rich nutrients and minerals including Vitamins B and C, iron, copper, manganese, silicium, phosphorus, potassium, calcium, and manganese, as well it contains bioflavonoids, saponins, phenolic and caffeic acids, alkaloids and tannins.
Minerals maintain regular skin functions such as lipid production and cellular turnover.

Bioflavonoids/Phenolic compounds like ursolic acid and quercetin have an inhibitory effect on elastase and collagenase activities. In short, slowing down the enzymes that cause a breakdown of nutrients like Vitamin C and peptide bonds of collagen – thus helping to strengthen the elasticity of the skin.

Saponins clarify the skin by accelerating biological activities including anti-bacterial, anti-viral, anti-oxidation, and anti-inflammatory.
Wild Pansy flower essence, also called Heart's Ease, uplifts the heart and strengthens our emotional intelligence from the heaviness of the world.
Size: 100 ml Full
Out of stock
Join The Waitlist
We will inform you when the product is back in stock. Please leave your valid email address below.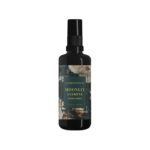 Moonlit Jasmine Hydramist
Out of stock
Join The Waitlist
We will inform you when the product is back in stock. Please leave your valid email address below.