Muscle Pain Relief Recovery Gel
March 22, 2022
AFRICAN BOTANICS
Muscle Pain Relief Recovery Gel
$65.00 $
Free U.S. Shipping, No MinimumSubscribers Save 15% In Our Retail Shops Every Day!
African Botanics Muscle Pain Relief Recovery Gel
What is it? Muscle Pain Relief Recovery Gel is designed to deliver fast-acting, soothing and warming relief to help alleviate and revitalize aching joints, muscles and post-workout discomfort while easing tension and fatigue.
Notes from the Curator: The Muscle Pain Relief Recovery Gel targets inflammation, aches and pain. It has a cooling, warming and soothing effect, helps ease tension and promotes circulation.
Let's get Nerdy: Anti-inflammatory compounds in Arnica, Devils Claw, Eucalyptus, Ginger, Comfrey, Black Pepper, Cinnamon, Buchu and warming Capsicum promote circulation, help reduce inflammation and deliver an intensely cooling and thermal feeling with a renewed sense of calm, restored vitality and well-being. This is ideal for extreme athletes and those who spend hours on digital devices or after a long day at work. The unique scent helps create a feeling of comfort and clarity. It is relaxing and stimulating at the same time.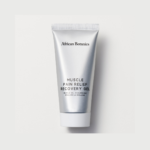 Muscle Pain Relief Recovery Gel