Pink Luna Prebiotic Bath Jelly
November 24, 2021
KISS KISS GOODNIGHT
Pink Luna Prebiotic Bath Jelly
$24.00 $
What is it?A prebiotic jelly-to-milk cleanser for kids bathtime fun.
Notes from the Curator: An alternative to bubble baths for kids with sensitive skin this plant-based, jelly-to-milk formula transforms the bathwater into a vegan milk bath.
Let's Get Nerdy: Gorgeous all natural pink color comes from hibiscus powder!
Size: 130ml
Preorder – This product will ship out next week.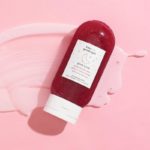 Pink Luna Prebiotic Bath Jelly