Pressed Flower Milk™ Hydrating Radiance Drops
Shruti Shah
April 12, 2023
MARY ALLAN
Pressed Flower Milk™ Hydrating Radiance Drops
$185.00 $
Free U.S. Shipping, No MinimumSubscribers Save 15% In Our Retail Shops Every Day!
Mary Allan Pressed Flower Milk™ Hydrating Radiance Drops
What is it? Pressed Flower Milk™ Hydrating Radiance Drops is a perfect hybrid of both water and oil in one step to create a dewy, soft glow. Once pressed into the skin the Orchid Oil droplets integrate with the water elements to create a perfectly balanced synergy of essential botanical lipids.
Notes from the Curator: This hydrating serum imparts just the right amount of moisture and hydration that can be used by all skin types and in all climates.'
Let's Get Nerdy: Lipid Barrier Glow Complex™ – An Infusion Of Pressed Orchid Flower Milk, Solar-dried Orchid Oil and Jojoba Oil Micro-droplets – A complex that infuses the perfect balance of oil to water for balanced hydration.
Pressed Orchid Flower Milk – Made by pressing the white orchid flowers (Phalaenopsis Amabilis) to extract the liquid. The milk contains a mixture of carbohydrates and proteins that helps enhance water retention.
Orchid Stem Cells – Orchid Plant stem cells obtained from a Japanese orchid flower (Calanthe Discolor). In vitro studies with tissue cells have been shown to induce several growth factors.
Jojoba Micro Droplets – Microdroplets of jojoba oil and phospholipids are suspended in the aqua-phase to deliver skin-plumping moisture that imparts a soft glow that mimics the skin's youthful lipid barrier.
Sodium Hyaluronate – A natural polysaccharide (sugar), holds 500 times its own weight of water. One of the most powerful humectants available for the skin.
Grape Seed Extract – Contains antioxidant properties (radical scavenger) and toning and restorative effects for the skin.
Niacinamide Complex – A first-of-its-kind active for skin glow, created with gold standard niacinamide in combination with natural peptide technologies.
Tripeptide-29 – A collagen boosting G-P-Hyp tripeptide sourced from Glutamic Acid found in Seaweeds.
Beta Glucan – A natural high-molecular weight polysaccharide naturally occurring in the cell walls of vegetables. Due to its high molecular weight, it offers effective water-binding capacity.
Velvet Flower Peptides – Naturally obtained peptides from the seeds of the Velvet flower (Amaranthus Caudatus). Offers firming properties.
Edelweiss Extract – From the Swiss alpine flower Edelweiss (Leontopodium Alpinum). Contains very high levels of radical scavenging activity.
Hibiscus Flower Extract – The flowers of the Hibiscus offers anti-oxidant properties.
Gluconolactone – PHAs (Gluconolactone) offers micro-exfoliation.
Size: 30 ml/ 1 fl. oz
Preorder: Ships out in 7-10 days
Add to Wishlist
Add to Compare
ABOUT THE BRAND

Mary is the founder of Mary Allan Skincare, a highly curated collection of premium skin care products. An expert on skin care, Mary's career spans over two decades working for some of the most iconic brands in the beauty industry. In 2018 Mary launched her namesake collection and has quickly gained a reputation amongst discerning customers who share the same approach and philosophy towards skin care as Mary.

HOW TO USE

Apply a few drops to face, neck and decollate by gently pressing onto the skin to release the oil and water micro-droplets. Allow the serum to fully integrate and absorb with the skin's lipid matrix before applying moisturizers and make-up.

INGREDIENTS

Aqua/Water /Eau, Simmondsia Chinensis (Jojoba) Seed Oil*, Propanediol, Phospholipids (Vegetable), Sodium Hyaluronate, Glycerin (Vegetable), Phalaenopsis Amabilis (Pressed Orchid Flower Milk) Extract, Calanthe Discolor (Orchid Stem Cells) Extract, Leuconostoc/Radish Root Ferment Filtrate, Vitis Vinifera (Grape) Seed Extract*, Niacinamide, Tripeptide-29, Beta (Vegetable) Glucan, Pisum Sativum Extract, Chenopodium Quinoa Seed Extract, Amaranthus Caudatus (Velvet flower) Seed Extract, Leontopodium alpinum (Edelweiss) extract, Hibiscus Sabdariffa Flower (Hibiscus) Extract, Anacamptis morio (Solar-Pressed Orchid) Oil*, Sodium Benzoate, Gluconolactone, Calcium gluconate, Xanthan Gum.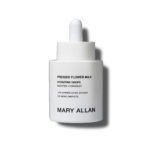 Pressed Flower Milk™ Hydrating Radiance Drops