Pressed Flower Milk™ Hydrating Radiance Drops
Shruti Shah
April 12, 2023
MARY ALLAN
Pressed Flower Milk™ Hydrating Radiance Drops
$185.00 $
Free U.S. Shipping, No MinimumSubscribers Save 15% In Our Retail Shops Every Day!
Mary Allan Pressed Flower Milk™ Hydrating Radiance Drops
What is it? Pressed Flower Milk™ Hydrating Radiance Drops is a perfect hybrid of both water and oil in one step to create a dewy, soft glow. Once pressed into the skin the Orchid Oil droplets integrate with the water elements to create a perfectly balanced synergy of essential botanical lipids.
Notes from the Curator: This hydrating serum imparts just the right amount of moisture and hydration that can be used by all skin types and in all climates.'
Let's Get Nerdy: Lipid Barrier Glow Complex™ – An Infusion Of Pressed Orchid Flower Milk, Solar-dried Orchid Oil and Jojoba Oil Micro-droplets – A complex that infuses the perfect balance of oil to water for balanced hydration.
Pressed Orchid Flower Milk – Made by pressing the white orchid flowers (Phalaenopsis Amabilis) to extract the liquid. The milk contains a mixture of carbohydrates and proteins that helps enhance water retention.
Orchid Stem Cells – Orchid Plant stem cells obtained from a Japanese orchid flower (Calanthe Discolor). In vitro studies with tissue cells have been shown to induce several growth factors.
Jojoba Micro Droplets – Microdroplets of jojoba oil and phospholipids are suspended in the aqua-phase to deliver skin-plumping moisture that imparts a soft glow that mimics the skin's youthful lipid barrier.
Sodium Hyaluronate – A natural polysaccharide (sugar), holds 500 times its own weight of water. One of the most powerful humectants available for the skin.
Grape Seed Extract – Contains antioxidant properties (radical scavenger) and toning and restorative effects for the skin.
Niacinamide Complex – A first-of-its-kind active for skin glow, created with gold standard niacinamide in combination with natural peptide technologies.
Tripeptide-29 – A collagen boosting G-P-Hyp tripeptide sourced from Glutamic Acid found in Seaweeds.
Beta Glucan – A natural high-molecular weight polysaccharide naturally occurring in the cell walls of vegetables. Due to its high molecular weight, it offers effective water-binding capacity.
Velvet Flower Peptides – Naturally obtained peptides from the seeds of the Velvet flower (Amaranthus Caudatus). Offers firming properties.
Edelweiss Extract – From the Swiss alpine flower Edelweiss (Leontopodium Alpinum). Contains very high levels of radical scavenging activity.
Hibiscus Flower Extract – The flowers of the Hibiscus offers anti-oxidant properties.
Gluconolactone – PHAs (Gluconolactone) offers micro-exfoliation.
Size: 30 ml/ 1 fl. oz
Open for Pre-order and will ship out in 1-2 weeks!
Add to Wishlist
Add to Compare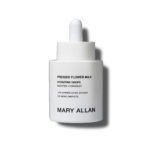 Pressed Flower Milk™ Hydrating Radiance Drops