Restoration Balm Luxurious Hand Treatment
April 25, 2022
VERITE SPA
Restoration Balm Luxurious Hand Treatment
$29.00 $
Subscribers Save 15% In Our Retail Shops Every Day!
Verite Spa Restoration Balm Luxurious Hand Treatment
What is it? A luxury hand treatment or any time your hands require that extra bit of care. It softens, restores and protects skin. Restorative Hand Balm is formulated with natural ingredients that hydrate, nourish, and protect your skin from the sun's harmful rays. It also helps to reduce the appearance of wrinkles, fine lines, and age spots. Use it daily for softer, smoother, and more youthful hands.
Notes from the Curator: This deeply moisturising and restorative balm is perfect for night time.
Let's Get Nerdy: With deeply nourishing and restorative Shea butter, Avocado, Hemp and Papaya seed oil and highly antioxidant rich and Vitamin C Kakadu plum, as well as Marula infused Rooibos. It is beautifully scented with calming notes of Vanilla, Almond and Neroli. This is a concentrated balm.
Size: 50ml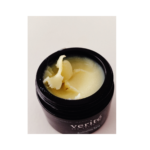 Restoration Balm Luxurious Hand Treatment