Rosehip Replenishing Balm
April 25, 2023
ANOKHA
Rosehip Replenishing Balm
$134.00 $
Subscribers Save 15% In Our Retail Shops Every Day!
Anokha Rosehip Replenishing Balm
What is it? Rosehip Replenishing Balm boasts a mélange of mango butter and highly soothing botanical oils. renew, replenish, radiate; repeat.
Notes From the Curator: It gently soothes irritated skin, hydrates dry skin, softens rough patches and helps to support the skin barrier
Let's Get Nerdy: Olive Fruit Oil – olive oil is rich in omega fatty acids which penetrate the skin to deliver key nutrients. olive oil contains the anti-oxidant vitamin e, as well as polyphenols which have anti-inflammatory and antioxidant properties.
Mango Seed Butter – mango butter is obtained from the kernels of the mango fruit. it has high levels of omega fatty acids, vitamin a, and vitamin e. when used topically, it helps to nourish skin and boost elasticity. it's ideal for use on dry, damaged, and aging skin.
Gotu Kola Extract – uses active compounds to stimulate collagen production. its anti-inflammatory properties help prevent scars and soothe irritation.
Argan Oil – argan seeds are rich in oleic and linoleic fatty acids, tocopherols, phytosterols, and triterpene alcohols. argan is believed to help reduce wrinkles and soften the skin with an increase in elasticity and skin tightening.
Arnica Extract – arnica is believed to stimulate the circulation, which in turn helps to reduce swelling, decrease bruising, and repair damaged skin.
Rosehip Seed Oil – helps to maintain skin's elasticity, reduce the appearance of fine lines and wrinkles, and may reverse damage from photo-aging. hello, bright bouncy skin.
Sea Buckthorn Seed Oil – contains essential fatty acids and vitamin e to help improve skin metabolism, soothe irritation, and slow maturation.
Size: 45 g/ 1.7 oz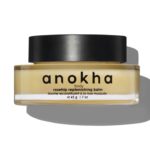 Rosehip Replenishing Balm