Royal Jelly Hydrating Overnight Mask
November 5, 2021
LOVINAH
Royal Jelly Hydrating Overnight Mask
$85.00 $
Free U.S. Shipping, No MinimumSubscribers Save 15% In Our Retail Shops Every Day!
What is it? Lovinah Royal Jelly Overnight recovery treatment mask is a vegan and advanced multi-peptide complex that combines ancient remedies with innovative clinically proven actives to nourish, soothe, rejuvenate, plump, firm, tone and brighten skin. Wake up to radiant skin with Royal Jelly Overnight Recovery Mask. A luxurious cream gel overnight recovery mask treatment that can be used post-treatment and formulated with a unique Epigenetics Royal Epigen-P5, which is a compound mimicking royal jelly found in bees.
Notes from the Curator: This is a no rinse mask that is supercharged with a cocktail of advanced pro aging peptides and Bakuchiol to help boost collagen production, protect the skin from environmental aggressors and soothe compromised or stressed skin
Let's Get Nerdy: This hydrating and recovery treatment  mask is an advanced formula that revitalizes and renews for naturally younger and glowing skin. It works in synergy with a unique complex of plant stem cells and peptides to help visibly improve skin tone and elasticity. Royal Jelly treatment helps target the specific needs of tired, compromised and stressed skin for a truly revitalizing and fortifying result.
This luxurious night time indulgence cream gel mask will infuse the skin with serum-strength, potent bioactive ingredients to boost the skin's natural renewal process. This very lavish peptide infused treatment mask will help soothe, calm, tone, firm and tighten skin, helping to create a healthy, firm and glowing skin. Royal Jelly Peptide Mask  will help transform the skin while you sleep and replenishes moisture and suppleness.
Key ingredients
RoyalEpigen P5 – Inspired by epigenetic science. RoyalEpigen P5 has been designed to delay the aging of skin. This revolutionary ingredient is based on a biologically active peptide that mimics the function of royalactin.
Royal jelly – rich in amino acids it is both revitalizing and harmonizing ; the richest natural ingredient in vitamin B5 (or pantothenic acid) which favors growth and strength of the skin.
Telangyn – Acetyl Tetrapeptide-40 is an innovative tetrapeptide specifically designed to decrease the appearance of facial redness and telangiectasia induced by an excessive inflammatory response.
SensAmone P5 – Provides immediate comfort for sensitive skin. Inspired by sea anemone venom, this lab manufactured active is is a biomimetic peptide that is based on a sea anemone protein which calms sensitive skin and reduces skin irritation.
Pentapeptide-18 reduces the depth of wrinkles on the face caused by the contraction of facial expression, especially in the forehead and crow's feet around the eyes.
Collalift – an extract of the bark of African Mahogany tree that helps offer multi-dimensional anti-ageing action by improving pores and fine lines, minimizing wrinkles and enhancing elasticity.
Propolis – skin protection and antibacterial properties ; stimulates total skin renovation.
Kakadu plum – naturally powerful antioxidant, known to be the world's highest source of fruit-based Vitamin C (100x more than orange!)
Cotton thistle – a powerful repairing agent ; promotes skin barrier repair, helps with skin dryness, roughness, redness, irritation, acne, fine lines and uneven skin tone
Bakuchiol – extracted from babchi seeds; anti-oxidant, anti-seborrhoeic, antimicrobial and anti-inflammatory properties; fights acne. Powerful antioxidant with retinol like properties to help boost skin's regeneration process.
Lingonberry – antioxidant; brightens the complexion
Bamboo – remineralizing and firming properties
Milk thistle – antioxidant benefits, which help protect skin from environmental stressors
Cacay – incredibly potent and highly concentrated nutrient and vitamin rich plant oil ; improves complexion with very high concentration of Retinol vitamin A
Hyaluronic acid – reduces wrinkles and plumps the skin
Vanilla – tones and moisturizes ; refreshing and stimulating properties
Probiotics – protection and biostimulation of natural skin defenses
About the Brand

Lovinah was created by Joy Ekhator as a modern interpretation of the ancient herbal traditions she grew up experiencing in her native Nigeria through her grandmother who was an herbalist, a traditional doctor, bone setter & midwife. Lovinah was initially started as a hobby, as Joy worked in tech in the U.S. Three back to back pregnancies, coupled with the frustration of not getting the promotions she deserved, the stress & hormones took a toll on her skin & health. She says, "I quit my job & went to Africa to seek peace & brainstorm on my next month. I came back to the States & started working on Lovinah full time".

How to Use

Immerse your skin in an indulgent night time experience with Royal Jelly. After cleansing and toning the skin, apply a thin layer to cleansed face and neck with fingertips. Massage any excess into skin and wake up to glowing skin

Ingredients

Olea Europaea (Olive) Leaf Water, Vanilla Planifolia (Vanilla) Fruit Water, Bambusa Vulgaris Extract, Vegetable Glycerin, Cyclopia Intermedia (Honey Bush) Extract, Eryngium Maritimum callus culture filtrate, Silybum marianum (milk thistle) Oil, Caryodendron Orinocense Seed Oil, Vaccinium Vitis Idaea Oil, Terminalia Ferdinandiana Oil, Niacinamide, Acetyl Tetrapeptide-40, Pentapeptide-18, Pentapeptide-48, Pentapeptide-59 , Hydrogenated Lecithin, Butyrospermum Parkii (Shea) Butter, African Mahogany Bark (​Khaya Senegalensis Bart Extract​) ,Phenethyl Alcohol, Ethylhexylglycerin, Maltodextrin, Aqua/Water, Glyceryl Stearate,Stearyl Alcohol, Polyglyceryl-2 Stearate, Sclerotium Gum (and) Pullulan, Allantoin, Sodium Hyaluronate, Vaccinium Vitis Idaea stem culture, onopordum acanthium extract (cotton thistle) , Pseudopterogoria elisabethae (sea whip), Silybum marianum (milk thistle) fruit extract, Bakuchiol, Phospholipids, Oat Beta Glucan, Panthenol, Beta-carotene, Lactobacillus Ferment, Sodium Levulinate, Sodium Anisate, non-gmo mixed vitamin E tocopherols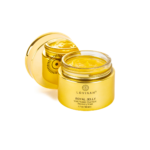 Royal Jelly Hydrating Overnight Mask