Sake & Sandalwood Facial Lotion
October 22, 2023
ANOKHA
Sake & Sandalwood Facial Lotion
$72.00 $
Free U.S. Shipping, No MinimumSubscribers Save 15% In Our Retail Shops Every Day!
Anokha Sake & Sandalwood Facial Lotion
What is it? Sake & Sandalwood Facial Lotion a gentle facial lotion for sebum-rich, testosterone-charged skin that layers sake filtrate, rice bran, gotu kola, allantoin, sandalwood, and bergamot to deeply nourish and visibly refresh skin.
Notes From The Curator: This lotion is a stiff drink to combat skin dryness. 99.5% natural, vegan, cruelty-free, physician-formulated. beautiful. pH balanced at 5.0.
Let's Get Nerdy: Sake.
moisturizes and brightens skin for a fresh and revitalized appearance, boosts elasticity, improves texture, and protects pores from blemish-causing impurities.
Rice Bran.
brightens skin's complexion and slows down the appearance of aging, while it cleanses, softens, moisturizes, soothes, nourishes, and smooths the skin; an ingredient all-star.
Gotu Kola.
effective in the treatment of burns, wounds, ulcers, and the prevention of scars, and is an anti-inflammatory agent.
Allantoin.
improves skin's moisture retention and is an effective anti-irritant. perfect for nicks and cuts from shaving.
Sandalwood.
hydrates and tightens skin, reduces the appearance of aging, and soothes skin, leaving it looking and feeling even and refreshed.
Bergamot.
clears clogged-up pores, boosts a more radiant tone and smoother texture, and reduces signs of acne and facial blemishes.
Size: 60 ml/ 2 oz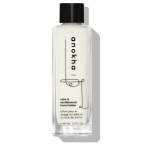 Sake & Sandalwood Facial Lotion