Sattva Glow + D Bakuchiol Serum
April 25, 2022
VERITE SPA
Sattva Glow + D Bakuchiol Serum
$95.00 $
What is it? Sattva is a like hug for your skin, a beautiful glow, a sense of calm , it is balancing, smoothing, renewing and healing for skin.
Notes from the Curator: A powerful combination of nourishing and healing ingredients to restore and renew the skin giving it a radiant healthy glow!
Let's Get Nerdy: Sattva is a sanskrit word and is one of the 3 modes of existence- it is the quality of balance, harmony, goodness purity, holistic, positive attitude, luminous, serenity, beingness, peace and virtuosness! The serum is high in Vitamin D and natural retinol- with key ingredients of Reishi and Shitake mushroom, Bakuchiol, st Johns wort, Desert Rose, Helichrysum, Hyaluronic acid and Jasmine.
Size: 30ml
About the Brand

Verité was founded by Janin Dei-Conti who is a trained aromatherapist. Janin's love for all things plant began in her family vegetable patch in South Africa where she grew up spending hours watching tiny seeds grow into plants. She believes skincare should be full of nourishing, healing, rejuvenating ingredients from pure, organic and natural sources, to feed and restore skin to bring about changes. Verité is about taking some time for selfcare in your day, a moment to breathe in the natural aromatherapeutic scents that help to restore your body and mind. And experience the benefits of the 100% botanical formulas, nourishing, nurturing, replenishing and restoring your unique radiant beauty.

How to Use

Use after cleansing and toning. Follow up with a moisturizer or balm if needed.

Ingredients

*Rosa damascena flower water , *St johns wort extract, *Selaginella lepidophylla, lactobacillus ferment,ganoderma Lucidum(reishi) extract/Lentinus Edodes (Shitake) extract, (Psoralea corylifolia(Bakuchiol), Olive squalene, *Cannabis sativa seed oil, Sclerotium rolfii, Limnanthes alba, Benzyl alcohol, Dehydroacetic acid, hyaluronic acid, Helichrysum angustifoleum, Jasminum grandiflorum, Citrus bergamia, *organic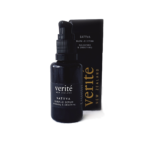 Sattva Glow + D Bakuchiol Serum