Sea Spa Mineral Rich Face Masque
April 25, 2022
VERITE SPA
Sea Spa Mineral Rich Face Masque
$64.00 $
Free U.S. Shipping, No MinimumSubscribers Save 15% In Our Retail Shops Every Day!
What is it? Deep cleansing vitamin and mineral rich face mask.
Let's Get Nerdy: Plant based marine botanicals and blue clay nourish, regenerate, increase circulation and help to remove harmful substances from the skin – leaving you with radiant skin. Excellent for skin ageing, eczema and acne.
Size: 50ml
About the Brand

Verité Spa Organics was founded by Janin Dei-Conti who is a trained aromatherapist. Janin's love for all things plant began in her family vegetable patch in South Africa where she grew up spending hours watching tiny seeds grow into plants. She believes skincare should be full of nourishing, healing, rejuvenating ingredients from pure, organic and natural sources, to feed and restore skin to bring about changes. Verité is about taking some time for selfcare in your day, a moment to breathe in the natural aromatherapeutic scents that help to restore your body and mind. And experience the benefits of the 100% botanical formulas, nourishing, nurturing, replenishing and restoring your unique radiant beauty.

How to Use

We recommend mixing equal parts of the powdered mask with pure spring water to form a smooth mousse like consistency. Then apply to a cleansed face avoiding eyes and mouth. Add a few drops of one our serums to enhance the properties of your masque. Leave on for 15-20 minutes. wipe off with a warm wash cloth (if the mask begins to dry during activation on the skin - then spritz with spring water or balancing facial tonic to keep it moist). After removal, spritz with balancing facial tonic, and apply serum and moisturiser.

Ingredients

Arthrospira Platensis, New Zealand Glacial clay, Myrciaria dubia, Ascorbic acid, Activated charcoal
Camelia sinensis, Mentha piperita, Cymbopogon Martini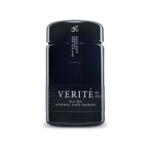 Sea Spa Mineral Rich Face Masque