SEAS Elements Beauty Balm
February 17, 2021
SIAM SEAS
SEAS Elements Beauty Balm
$95.00 $
Subscribers Save 15% In Our Retail Shops Every Day!
What is it? Siam Seas SEAS Elements Beauty Balm is a forest-colored balm especially formulated for reactive, easily congested skin. It heals, brightens and protects. SEAS Elements is a concentrated moisturizer that protects the skin barrier, prevents moisture loss, reactivates skin elasticity, boosts collagen synthesis and regenerates skin cells to create a natural glow.
Notes from the Curator: Like stumbling on a patch of jasmine flowers while on a stroll in the forest, this lightweight balm sinks in beautifully and would work on all skin types.
Let's Get Nerdy: Supadra uses 4 Southeast Asian botanicals that provide relief for stressed acne prone inflamed skin while replenishing hydration, reactivating skin elasticity, boosting collagen synthesis and regenerating skin cells to create a natural glow. This balm also contains Vitamin C and Oxyresveratrol from Lakoocha extract which is an extremely potent antioxidant.
A rich source of tetrahexyldecyl ascorbate, the most skin-penetrable form of Vitamin C to restore brightness and balance skin tone, while Bakuchiol, Yananag, Gotu kola work synergistically with vitamin C to regenerate cells and defense against UV damage, free radicals and collagen breakdowns.
SEAS elements Beauty balm is a firmer textured balm that luxuriously softens by the heat of your fingertips transforming into a fast absorbent fluid that your skin will relish for its nutrients and protection. SEAS is a skin therapy treatment for all skin types; especially eczema, rosacea, dry, mature, inflamed and sensitive skin.
Scent Experience: A green, forest like color balm intertwined with the sweet nostalgic scent of jasmine flower and the herbaceous scent of blue tansy.
Size: 1 oz/30ml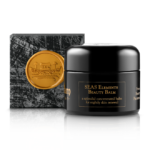 SEAS Elements Beauty Balm