Tanu Cell Affinity Coactive Serum
February 17, 2021
FIFTY 7 KIND
Tanu Cell Affinity Coactive Serum
$120.00 $
Subscribers Save 15% In Our Retail Shops Every Day!
What is it? Tanu is a luxurious, concentrated, plant-sourced Retinol Alternative, formulated with Cutting-Edge Actives to clarify the skin by balancing sebum production, lessening the appearance of blemishes, rejuvenating and brightening with a gentle retinol-like action
Notes from the Curator: TANU – Is a Sanskrit word meaning: self, person, body, skin, form, or manifestation.
Let's Get Nerdy: 1. SYTENOL A®
+ Clinically demonstrated to reduce wrinkles, hyperpigmentation, and overall photo-damage, while boosting elasticity and skin firmness, and as efficiently as retinol, with a better skin tolerance.
+ Clinically proven to be more efficient that salicylic acid and to reduce acne by 48% after 6 weeks
+ Boosts type 1, III and IV collagen production
+ Purified Bakuchiol Extract – It is all natural, well-defined compound with >99% purity, Natrue Certified. REACH registered. Patented product.
2. AROLEAT SAMPHIRA®
+ Mimics the beneficial effects of retinoids without irritating or photo-sensitizing the skin
+ Reduces sebum secretion lessening breakouts
+ Gentle exfoliation of the skin's superficial dead cells encouraging reduction in blackheads and blocked pores
+ Smoothes out wrinkles, and leaves the skin even-toned.
3. FERMENTED WHITE WILLOW BARK
+ Enhances cellular renewal minimizing the appearance of pores
+ Diminishes the appearance of fine lines and wrinkles
+ Helps in balancing excess sebum and maintaining skin's oil production
+ High in antioxidants (Tannins) with astringent properties helping reduce the appearance of pore size, Tannins also help control excess oil, which may help alleviate acne complaints.
4. ANTIOXIDANT LIPOSOMES
+ Deliver potent targeted antioxidants from nutrient-dense Goji and Acai Berries, deeper into the layers of skin
+ Phospholipids offer an instant skin-plumping effect.
5. OMEGIA®
+ A unique standardized extract of Sea Buckthorn fruit and seed oil, containing a balanced ratio of: Omega-3-6-7-9, antioxidants Beta-Carotene, Vitamin E, and β-sitosterol
+ Clinically proven to increase skin hydration, elasticity and reduce the appearance of wrinkles
+ β-sitosterol promotes the biosynthesis of hyaluronic acid increasing the moisture retention within skin.
Size: 20ml/ 0.67 0z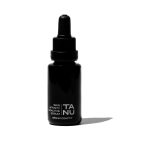 Tanu Cell Affinity Coactive Serum