Third Eye Rejuvenating Eye Serum
October 18, 2022
LOVINAH SUPERNATURAL SKINCARE
Third Eye Rejuvenating Eye Serum
$75.00 $
Free U.S. Shipping, No MinimumSubscribers Save 15% In Our Retail Shops Every Day!
Lovinah Third Eye Rejuvenating Eye Serum
What is it? Third Eye Rejuvenating Eye Serum is a rich, potent, luxurious, high performance and innovative anti aging eye serum made with colloidal gold and copper peptide to counteract visible signs of aging, dark circles and puffiness around the eyes.
Notes from the Curator: This liquid gold serum is super hydrating and will tone your skin instantly without needles! Third eye serum delivers rich, long-lasting moisture.
Let's Get Nerdy: This advanced anti-aging eye serum is made with 0.9999 purity gold in colloidal form, as well as copper, haloyxl, eyeliss and other peptides that plump and tone the sensitive skin around your eyes. While haloxyl's anti-aging properties diminish the dark circles under your eyes, eyeliss improves blood circulation and together with horse chestnut helps reduce the puffiness. Copper peptides boost the production of collagen while amethyst helps detox the delicate eye area and provides the skin with oxygen.
Rejuvenate and nourish your delicate eye area with Third Eye to help boost collagen production in the skin and increase natural, youthful elasticity . Third Eye is a potent remedy for aging skin. Harness the ancient power of beauty and pamper your skin with gold for a flawless and glowing complexion. This innovative eye treatment deeply hydrates and protects your eyes from free radical damage, while also reducing the appearance of fine lines and wrinkles, dark circles and other signs of fatigue.
Size: 30 ml / 1 oz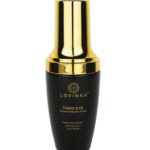 Third Eye Rejuvenating Eye Serum