Tinted Sole Lip + Face Balms – Gold
September 17, 2021
LEPAAR
Tinted Sole Lip + Face Balms – Gold
$22.00 $
Subscribers Save 15% In Our Retail Shops Every Day!
What is it? Softly hued balms for a blush of colour on lips and cheeks These little jewels are composed with exfoliating and rejuvenating Papaya Seed oil, restoring and wound-healing Calendula extract, anti-oxidant Vanilla extract moisture loss preventing beeswax and trace element providing Pink Himalayan Crystal Salt.
Notes from the Curator: The balms moisturise and protect the lips on a cellular level, as the 84 vital trace elements in Pink Himalayan Crystal salt are absorbed via the lips.
Let's Get Nerdy: The colour comes from certified edible Mica in just the right amount to give a blush of lightly sparkling colour, without the drying mineral element. Energetically, Resin extracts + homeopathic (minute) doses of essential oils of Frankincense and Myrrh, plus 24 Karat Gold balance the body-soul-spirit alignment.
GOLD SOLE – A warm shimmer of luminous Gold.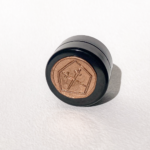 Tinted Sole Lip + Face Balms - Gold