Yamuna Nourishing Shampoo
November 5, 2021
ABHATI SUISSE
Yamuna Nourishing Shampoo
$37.00 $
Subscribers Save 15% In Our Retail Shops Every Day!
Abhati Suisse Yamuna Nourishing Shampoo
What is it? Yamuna Nourishing Shampoo is a gentle, yet highly effective detoxifying formula of organic botanicals for hair and scalp. It cleanses, hydrates, and fortifies hair and scalp, leaving it wonderfully fragrant.
Notes from the Curator: Yamuna rids your hair and scalp of build-up that accumulates from regular use of conventional hair-styling products, which weigh hair down.
Let's Get Nerdy: ABHATI Suisse's Yamuna shampo features Indian gooseberry, avital botanical ingredient and an ayurvedic herb. This vitamin C powerhouse is a potent antioxidant, which encourages the hair's healthy growth, natural pigmentation and helps curb dandruff. YAMUNA Nourishing Shampoo doesn't make you choose between natural ingredients and luxurious lather – it lets you have it all.
Size: 250ml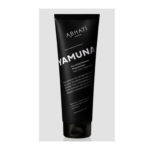 Yamuna Nourishing Shampoo