88mph Short Contact Remodelling Balm
October 26, 2022
CIPHER SKINCARE
88mph Short Contact Remodelling Balm
$158.00 $
Free U.S. Shipping, No MinimumSubscribers Save 15% In Our Retail Shops Every Day!
What is it? Cipher 88mph is a short contact remodelling balm, can also be used as a flash mask. A breakthrough 2-minute retinoid treatment providing instantaneous active delivery in a uniquely scalable system. Powerful brighteners, restorative actives, and holistic factors team to dramatically remodel the look of skin while mitigating typical side effects of retinoids: dryness and sensitivity. an advanced approach targeting multiple skin concerns simultaneously for a remarkably radiant, unblemished, rejuvenated appearance.
Notes from the Curator: Based on the proven science of short contact therapy, this first-of-its-kind active-in-lipid matrix system optimizes instantaneous delivery in an incredibly short contact time. Easily scalable based on usage duration and frequency, this potent rinse-off remodelling treatment balances intensity and holistic restoration to noticeably transform the skin like never before.
Let's Get Nerdy: Retinal, or Retinaldehyde, is the most potent form of retinoid available without a prescription. Because of this, it yields results more quickly at lower concentrations than typical retinol. 88mph houses the highest concentration of liposome-stabilized retinal on the market—0.2%—inside a lusciously soothing lipid gel to target the appearance of fine lines, congestion, and thinning skin in 2 minutes flat. Expect noticeable firming and plumping of the complexion, resurfacing of skin texture, and a remarkably clarified, radiant, healthful look.
Size: 50ml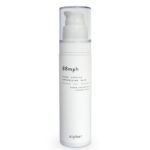 88mph Short Contact Remodelling Balm