Blue Agave Overnight Resurfacing Peel
October 11, 2022
LOVINAH
Blue Agave Overnight Resurfacing Peel
$65.00 $
Free U.S. Shipping, No MinimumSubscribers Save 15% In Our Retail Shops Every Day!
What is it? Blue Agave Overnight Resurfacing Peel is the perfect overnight facial to peel away dull skin and reveal healthy, supple, younger-looking glow in the morning. Blue Agave Overnight Resurfacing Peel is a powerful, yet gentle slow-release at-home overnight peel, with encapsulation delivery systems of AHA, BHA, LHA & PHA , healing botanicals and biomimetic peptides for youthful-looking radiant skin.
Notes from the Curator: Many people have enlarged pores, dark spots or dull looking skin. The Blue Agave Overnight Peel is a gentle way to bring back that glow. This blue peel will exfoliate the skin by removing dead skin cell build up which is the reason for that dull looking skin.
Let's Get Nerdy: The Blue Agave Overnight peel will help to improve uneven skin tone, fine lines and overall skin-texture. This spa-quality overnight blue peel work to exfoliate dead cells on the surface of the skin, boost hydration and provide healthy, supple and glowing complexion.
Overnight peel, formulated with a slow-release encapsulation delivery systems of AHA, BHA, LHA & PHA to minimize the irritation caused by exfoliation. Powered by a 15% blend of alpha (AHA), 0.5% beta (BHA), 1% lipo (LHA), 3% polyhydroxy (PHA) acids and 2% Bakuchiol . This game changing overnight sensation will help boost skin clarity
Contains Blue Agave stem cell, a hidden ancient beauty secret for glowing skin. Formulated with skin soothing botanicals and calming peptides to help reduce facial redness and minimize skin irritation. The missing step in your skin routine and formulated with three-molecular weight hyaluronic acid to help increase hydration and strengthen skin barrier.
Vegan + Cruelty-free
HELPS WITH:
Dull skin
Fine lines & wrinkles
Pigmentation & dark spots
Pores
Featured Ingredients:
Alpha Hydroxy Acids (AHA): Helps to improve skin texture, reduces excess dead skin cell buildup, resurfaces, exfoliates, stimulates cell renewal promoting a smoother, supple, refine and radiant-looking skin.
Beta Hydroxyl Acid (BHA) : Clean the pores, absorbs excess sebum and exfoliate dead skin cells.
Lipo Hydroxyl Acid (LHA): A derivative of salicylic acid, LHA is highly lipophilic and has skin renewing, exfoliating, and acne treating properties. lt is six times more powerful than salicylic acid, but with skin calming propeties
Polyhydroxy Acid (PHA): Gently exfoliates skin while attracting and retaining moisture without skin sensitivity or irritation.
Acetyl Tetrapeptide-40: An innovative tetrapeptide specifically designed to decrease the appearance of facial redness
Pentapeptide-59: A biomimetic peptide which provides immediate comfort for sensitive skin and reduces skin irritation
Blue Agave: Naturally high in vitamins B1, B2, C, D, K and provitamin A which can help revive tired, dull looking skin. It also contains saponins which are natural surfactants, that can help break down dirt and oils on the skin
Sea Whip – Is also a powerful healing ingredient as it neutralizes enzymes that are responsible for irritation evident in skin sensitivity, sunburn and ageing, as well as pain and swelling from acne, whilst actively soothing and hydrating the skin.
Bakuchiol – Powerful antioxidant with retinol like properties to help boost the skin's regeneration process
Kalanchoe pinnata (Leaf of Life): Is a succulent plant from Africa with regenerative powers. It has been used since ancient times for skin healing. Leaf of Life or miracle plant is rich in antioxidants and has high water retention capacity.
Kinkeliba: A healing plant native to West Africa with anti-inflammatory and antibacterial properties. It has been used since ancient times to purify and exfoliate the skin. Rich in catechins, kinkeliba is powerful antioxidant that helps fight free radicals causing premature signs of aging,
Size: 1 oz / 30ml
Description

Lovinah Blue Agave Overnight Resurfacing Peel is a powerful, yet gentle slow-release at-home overnight peel, with encapsulation delivery systems of AHA, BHA, LHA & PHA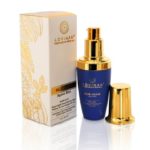 Blue Agave Overnight Resurfacing Peel