American Fiction Series with Alexander Chee
August 25, 2022
American Fiction Series with Alexander Chee
$39.95 $
Free U.S. Shipping, No MinimumSubscribers Save 15% In Our Retail Shops Every Day!
Welcome to our American Fiction Series with Alexander Chee: On Becoming an American Writer. Curated by novelist, essayist, editor, teacher, and generous champion of other writers, Alexander Chee.
"This country is in an argument over what it means to even belong here. And meanwhile, there are some fascinating new novels & story collections emerging month by month, a literature like we've never had, alongside editors & houses reaching back for the writers left behind, older writers, some living, some dead. The result is a reimagining of our literary landscape that we risk missing if we don't really look." – Alexander Chee
Each Box will feature two books and a bookish gift chosen by Chee. In addition to our insert, the box will also include a special letter from Chee about the books: the context, why he chose the books, what is special about them as well as other notes to add to the pleasure of reading them.
We have worked hard to ensure that the retail value of this box will exceed the cost to subscribe, always at least matching the Amazon prices of the featured books.
Please note: This is a subscription. When you subscribe to the first box, you will be immediately charged for the first box. Your subscription will renew for the next box on July 15. You can cancel your subscription anytime before the next billing cycle.
This subscription is only available for US shipping.
In the June edition of the American Fiction Box, we feature:
Your Love Is Not Good by Johanna Hedva
La Tercera by Gina Apostol
A gift chosen by Alexander Chee
Your Love Is Not Good by Johanna Hedva
At an otherwise forgettable party in Los Angeles, a queer Korean American painter spots a woman who instantly controls the room: gorgeous and distant and utterly white, the center of everyone's attention. Haunted into adulthood by her Korean father's abandonment of his family, as well as the specter of her beguiling, abusive white mother, the painter finds herself caught in a perfect trap. She wants Hanne, or wants to be her, or to sully her, or destroy her, or consume her, or some confusion of all the above. Since she's an artist, she will use art to get closer to Hanne, beginning a series of paintings with her new muse as model. As for Hanne, what does she want? Her whiteness seems sometimes as cruel as a new sheet of paper.
Your Love Is Not Good stuffs queer explosive into the cracks between identity and aspiration, between desire and art, and revels in the raining debris.
La Tercera by Gina Apostol
In her first novel since Insurrecto, Gina Apostol assembles a vision of Philippine history from the 19th century to present day in the fragmented story of the Delgados, a family surviving across generations of colonization, catastrophe, and war.
Rosario, a Filipina novelist in New York City, has just learned of her mother's death in the Philippines. Instead of rushing home, she puts off her return by embarking on a remote investigation into her family's history and her mother's supposed inheritance, a place called La Tercera, which may or may not exist. Rosario catalogs generations of Delgado family bequests and detritus: maps of uncertain purpose, rusted chicken coops, a secret journal, the words to songs sung at the family home during visits from Imelda Marcos.
La Tercera is Gina Apostol's most ambitious, personal, and encompassing novel: a story about what seems impossible—capturing the truth of the past—and the terrible cost to a family, or a country, that fails to try.
Description

American Fiction Series with Alexander Chee. Curated by novelist, essayist, editor, teacher, and generous champion of other writers, Alexander Chee.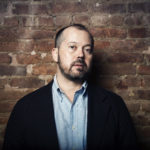 American Fiction Series with Alexander Chee