American Fiction Series with Alexander Chee
August 25, 2022
American Fiction Series with Alexander Chee
$41.00 $
Free U.S. Shipping, No MinimumSubscribers Save 15% In Our Retail Shops Every Day!
Welcome to our American Fiction Series with Alexander Chee: On Becoming an American Writer. Curated by novelist, essayist, editor, teacher, and generous champion of other writers, Alexander Chee.
"This country is in an argument over what it means to even belong here. And meanwhile, there are some fascinating new novels & story collections emerging month by month, a literature like we've never had, alongside editors & houses reaching back for the writers left behind, older writers, some living, some dead. The result is a reimagining of our literary landscape that we risk missing if we don't really look." – Alexander Chee
Each Box will feature two books and a bookish gift chosen by Chee. In addition to our insert, the box will also include a special letter from Chee about the books: the context, why he chose the books, what is special about them as well as other notes to add to the pleasure of reading them.
We have worked hard to ensure that the retail value of this box will exceed the cost to subscribe, always at least matching the Amazon prices of the featured books.
Please note: This is a subscription. When you subscribe to the first box, you will be immediately charged for the first box. Your subscription will renew for the next box on July 15. You can cancel your subscription anytime before the next billing cycle.
This subscription is only available for US shipping.
August Book Subscriptions are now open!
The theme of the box is American Past, American Present. Each box contains:
Uranians by Theodore McCombs
Night Wherever We Go by Tracey Rose Peyton
A writerly gift and note from Alexander Chee
In the visceral and arresting Night Wherever We Go, Tracey Rose Peyton is unflinching in her portrayal of America's gravest injustices, while also deeply attentive to the transcendence, love, and solidarity of women whose interior lives have been underexplored.
On a struggling Texas plantation, six enslaved women slip from their sleeping quarters and gather in the woods under the cover of night. The Lucys—as they call the plantation owners, after Lucifer himself—have decided to turn around the farm's bleak financial prospects by making the women bear children. They have hired a "stockman" to impregnate them. But the women are determined to protect themselves…
The five speculative stories in Theodore McCombs's Uranians are a kaleidoscopic collection that span several possible worlds, teasing the boundaries between coexisting realities, brilliantly illustrating the vital role that queerness plays in every possible version of our world.
In "Toward a Theory of Alternative Lifestyles," a heartbroken gay man waits in line at an exclusive Berlin rave promising visions of parallel lives across the multiverse. In "Six Hangings in the Land of Unkillable Women," at the turn of an alternate 20th century, a policeman's wife feels that if you want an execution done right, you just have to do it yourself. And in the operatic novella "Uranians," an expedition of queer artists, scientists, and one trans priest embark on a lifelong interplanetary voyage that requires them to renegotiate their connections to a remote and hostile Earth, while keeping their ship's biome—and each other—alive.
Both books explore the themes of the past and present in a radically different ways, reflecting on the past and fashioning the present of America as they do—a fitting finish to the American Fiction Series.
Please Note: Aug 2023 Alex Chee Subscription Boxes will ship out on 7th Sept 2023. Also this is the last box in collaboration with Alexander Chee and will not auto-renew.
Description

American Fiction Series with Alexander Chee. Curated by novelist, essayist, editor, teacher, and generous champion of other writers, Alexander Chee.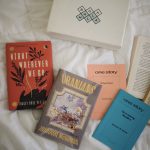 American Fiction Series with Alexander Chee