First Light Brightening Oil Serum
August 19, 2022
LIVE BOTANICAL
First Light Brightening Oil Serum
$70.00 $
Free U.S. Shipping, No MinimumSubscribers Save 15% In Our Retail Shops Every Day!
What is it? A robust and luxurious oil serum highlighted with a cornucopia of vibrant berries, calendula, carrot, and dates. Elevated by a vitamin C ester and a vegan ceramide complex using pomegranate sterols. Collectively the formula supports collagen production and common skin concerns around fine lines, scarring, and discoloration.
Notes from the Curator: Essential oil-free, suitable for sensitive, acne-prone and mature skin types.
Let's Get Nerdy: Tetrahexyldecyl Ascorbate (10%) is a stable vitamin C derivative suitable for sensitive skin. Coupled with whole plant-based vitamin E and ferulic acid in the overall formula, the bioavailability is measurably increased to improve clarifying and protective benefits.
Ceramides plus pomegranate sterols (cholesterol) create a unique complex along with essential & non-essential fatty acids that mirror our natural skin to help improve the lipid barrier matrix for enhanced protection from water loss and in turn encourage long-term vitality.
Date extract has shown great promise in various studies to improve skin elasticity, increase brightness, greater hydration, and decrease in redness and hyperpigmentation.
Organic, fresh, and locally grown calendula flower protects skin from free radicals, reducing redness for more acne-prone skin. It increases circulation to help with puffiness and dark circles as an eye serum and reduces scarring as a spot treatment.
Supercritical extract of organic seaberry fruit has astringent properties to firm the skin. Extremely rich in carotenoids, a vitamin A precursor to enhance a healthy glow.
Carrot root extract and carrot oil (carrier oil not the essential oil) impart an additional surge of flavonoids to improve overall skin rejuvenation and skin brightening.
Cranberry seed oil is one of the most abundant sources of polyphenols such as tocopherols and tocotrienols (Vitamin E) which improve firmness and elasticity. It has the perfect ratio of omega-3, omega-6, and omega-9 fatty acids meaning it's better at absorption to deliver all its skin-loving properties.
Raspberry seed is rich in carotenoids and vitamin E. The antioxidant profile is especially effective at supporting concerns around UV damage and calming reactive, sun-parched and inflamed conditions.
Rice bran oil is a natural source of ceramides, peptides, ferulic acid, CoQ10, vitamins A and B, in addition to a range of antioxidants such as tocopherol, tocotrienol, and oryzanol. Together they repair lipid barrier damage and protect the skin from free radicals.
Squalane acts as a protective barrier to soften the appearance of fine lines. It absorbs quickly to provide a velvety finish. Our luxe version is extracted from sustainable amaranthus grain, which is one of the highest and most abundant sources of plant-based squalane.
Daikon radish extract improves absorption for a lightweight feel, making this a wonderful and protective oil for daytime use and under makeup.
Size: 30ml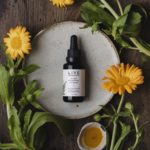 First Light Brightening Oil Serum