Attar Floral Repair Concentrate
February 17, 2021
MONASTERY
Attar Floral Repair Concentrate
$168.00 $
What is it? Attar is a gorgeous medium weight balm designed to potect the skin and boost its glow.
Notes from the Curator: This smells wonderfully but softlly floral.It doesn't contain any essential oils – the scent comes from the rose and jasmine waxes. Another one of my favorite products from the line.
Let's get Nerdy: Attar is made in a base of Rosehip seed and Hazelnut oils with rare rose extracts, jasmine sambac and Indian tuberose waxes, that fortify skin with essential fatty acids and vitamins A, B, C, and E, which stimulate regeneration, repair UV damage, and soften fine lines.
About the Brand

Monastery was founded by Athena Hewett. Athena has been a certified esthetician now for 20 years, starting her own skincare studio in San Francisco in 2011. Alongside her practice she introduced a skincare line inspired by her childhood summers in the Greek Cyclades, where her grandparents lived & owned an olive grove. Throughout her childhood, Athena learned from her grandmother & her mother, practices of picking & pressing local herbs & turning nuts into oils. Athena combines her love and understanding of plant-based potions, so ingrained in her upbringing, with her training & practice as an esthetician as well as her meticulous attention to sourcing high quality ingredients, to create her beautiful products for Monastery.

How to Use

Apply a thin veil to help seal in moisture or a thicker, more generous amount for a deeply hydrating overnight treatment. Attar is also beneficial to chapped lips and fragile under eye skin. This balm is a hero for hydrating and nourishing skin. It's a favorite of dry and aging skin types. However, hazelnut oil and tuberose are antifungal making it safe even for blemish-prone skin.

Ingredients

Rose Mosqueta (Rose Hip) Oil, Corylus Avellana (Hazelnut) Oil, Rosa Damascena (Rose) Wax, Jasminum Sambac (Jasmine) Wax, Jasminum Grandiflorum (Jasmine) Wax.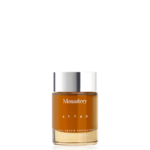 Attar Floral Repair Concentrate