Lapiz Matte Body Oil
February 17, 2021
MONASTERY
Lapiz Matte Body Oil
$59.00 $
What is it? Monastery Made Lapiz Matte Body Oil is a fast absorbing matte body oil which moisturizes and nourishes skin while helping it to firm and energize. Gingergrass, grapefruit, and peppercorn combine to create an energizing, stimulating aroma.
Notes from the Curator: This mattifying body oil absorbs quickly and smells fresh, citrusy, warm and fizzy all at the same time.
Let's get Nerdy: Gingergrass and grapefruit give Lapiz its beautiful scent, while peppercorn stimulates and perks up the skin.
Size: 100ml
Free U.S. Shipping, No MinimumSubscribers Save 15% In Our Retail Shops Every Day!
About the Brand

Monastery was founded by Athena Hewett. Athena has been a certified esthetician now for 20 years, starting her own skincare studio in San Francisco in 2011. Alongside her practice she introduced a skincare line inspired by her childhood summers in the Greek Cyclades, where her grandparents lived & owned an olive grove. Throughout her childhood, Athena learned from her grandmother & her mother, practices of picking & pressing local herbs & turning nuts into oils. Athena combines her love and understanding of plant-based potions, so ingrained in her upbringing, with her training & practice as an esthetician as well as her meticulous attention to sourcing high quality ingredients, to create her beautiful products for Monastery.

How to Use

Apply right after shower allow a few minutes to pass after putting on clothes. Can also apply to dry skin.

Ingredients

Olea Europea (Squalane) Oil, Medium Chain Triglycerides (Fractionated Coconut) Oil, Cymbopogon Martinii Var. Sofia (Gingergrass) Oil, Shinus Terebenthi folius (Pink Peppercorn) Oil, Achillea Millefolium (Blue Yarrow) Oil, Citrus Paradisii (Ruby Red Grapefruit) Oil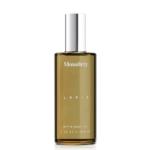 Free U.S. Shipping, No MinimumSubscribers Save 15% In Our Retail Shops Every Day!