Blackwing Matte Pencil – Pack Of 12
February 8, 2023
BLACKWING
Blackwing Matte Pencil – Pack Of 12
$27.00 $
Free U.S. Shipping, No MinimumSubscribers Save 15% In Our Retail Shops Every Day!
Blackwing Matte pencils have matte black finish and soft graphite. It also comes with iconic square Blackwing ferrule with a black eraser.
Ideal for musicians, woodworkers and anyone who prefer a soft, dark line, the Blackwing Matte is the softest of the four core Blackwing models. Each pencil features a timeless matte black finish, iconic square Blackwing ferrule and black eraser.
Blackwing Matte pencils come in a 12-pack gift box that also doubles as a pencil cup.
With a retro look that is decidedly fresh, the Blackwing Matte pencil pays tribute to the grand-daddy of legendary pencils, the Eberhardt-Faber Blackwing 602. Blackwing pencils have sketched, written and composed their way across the American cultural landscape.
Description

Blackwing matte pencils feature a timeless matte black finish, iconic square Blackwing ferrule and black eraser. Blackwing pencils come in packs of 12.

ABOUT THE BRAND

The founders at Blackwing tell stories and make thoughtfully designed pencils, notebooks, and tools.

These pencils are made with high quality Incense-cedar that only grows in the forests of northern California and southern Oregon and are sustainably and responsibly manufactured from the highest quality renewable resources.

Only Blackwing pencils combine the best graphite in the world, the best wood in the world, and generations of craftsmanship to create an exceptional pencil. When you're looking for the perfect pencil to write a song, sketch a landscape or brainstorm a business idea, look for Blackwing's distinct rectangular eraser.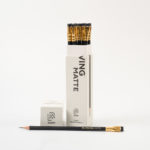 Blackwing Matte Pencil - Pack Of 12