Blue Butterfly Stem Cell Hydration Mask
February 17, 2021
LOVINAH
Blue Butterfly Stem Cell Hydration Mask
$85.00 $
Subscribers Save 15% In Our Retail Shops Every Day!
What is it? Lovinah Blue Butterfly Stem Cell Hydration Mask is a luxurious mask of pure natural deep-sea minerals, known for its beauty-enhancing properties, plant stem cell proteins help to boost the skin's regeneration cycle and pre & probiotics help to protect, hydrate, repair and nourish the skin.
Notes from the Curator: Blue Butterfly Mask contains plant stem cell using liposome encapsulated technology to help deliver powerful antioxidants and anti-inflammatory properties which can help to protect against sun damage and prevent wrinkles deeper into the skin cells. Plant stem cells can help boost the production of new collagen, which will help make the skin appear more youthful. The iconic Blue Butterfly mask will help detoxify, exfoliates, tones, soothes, and deep cleanses to remove impurities and boost hydration. Its unique formula which targets blemishes and encourage clear skin.
Let's get Nerdy: This Deep Sea based Hydration Mask has benefits of over 100 Marine extracts and trace minerals to protect, repair, clarify, soothe and purify the skin. It is infused with prebiotics and probiotics, which helps to provide protection against environmental damages, boost hydration and soothe the skin. Rich in Plant Stem Cell, this facial mask slows down the breakdown of collagen and protects the collagen in the skin by neutralizing free radicals. It also helps restore your skin's softness and natural texture.
Size: 50ml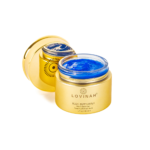 Blue Butterfly Stem Cell Hydration Mask