Botanical Face Oil Armonia
April 20, 2023
MANASI 7 SKINCARE
Botanical Face Oil Armonia
$125.00 $
Free U.S. Shipping, No MinimumSubscribers Save 15% In Our Retail Shops Every Day!
Manasi 7 Microbioskin Botanical Face Oil Armonia
What is it? Botanical Face Oil Armonia  is a luxurious and potent multitasker, formulated with 24 certified organic, natural and wild-harvested oils and extracts,
Notes From The Curator: This organic face oil protects your skin as well as rejuvenates and repairs it.
Let's Get Nerdy: Botanical Face Oil Armonia has a rich yet silky texture absorbs easily into the skin without leaving any oiliness, refining and revitalizing the skin's natural radiance. Use morning and night for moisturizing, protecting and balancing your skin. It's also perfect as a primer under your makeup as well as a great hair oil for split ends. It contains a selected proprietary blend of botanical oils and extracts exclusive to Manasi 7 which are made to help support the microbiome with special attention to the natural pH (4,6-5) of the skin barrier and acid mantle.
Size: 30 ml / 1 0z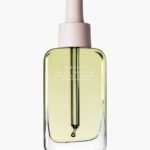 Botanical Face Oil Armonia