Ctrl Z Multi Corrective Overnight Facial
September 17, 2021
CIPHER SKINCARE
Ctrl Z Multi Corrective Overnight Facial
$158.00 $
Subscribers Save 15% In Our Retail Shops Every Day!
What is it? Cipher Ctrl Z – Multi Corrective Overnight Facial is an advanced resurfacing treatment to dynamically recondition skin's appearance. An intelligent blend of direct acid, enzyme, and non-acid exfoliants soften visible blemishes, hyperpigmented spots, pores, and texture. novel actives add supple volume, boost luminosity, and support a resilient microbiome for facial-like results overnight.
Notes from the Curator: Achieve facial-like results overnight with CTRL Z a sophisticated formula to dynamically recondition skin's appearance. blemishes, dark spots, pores, and texture seem instantly blurred, brightened, and smoothed—with cumulative results over time.
Let's Get Nerdy: What makes ctrl z's approach to resurfacing unique is the inclusion of an incredibly efficacious non-acid exfoliant: yeast oligopeptide. Rather than exfoliating cells indiscriminately, this novel ingredient works by boosting skin's natural exfoliation system to help it work more efficiently and effectively. In studies, it has shown to be more effective than glycolic acid without the irritation. A touch of decongesting beta hydroxy acid (BHA) salicylic acid completes the blend: The optimal ingredient for tackling blackheads and smoothing visible skin texture.
Size: 50ml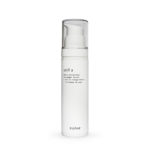 Ctrl Z Multi Corrective Overnight Facial