Dragon's Blood BHA Cleansing Oil
February 17, 2021
LOVINAH
Dragon's Blood BHA Cleansing Oil
$55.00 $
What is it? Lovinah Dragon's Blood BHA Cleansing Oil is infused with Lycopene, double encapsulated salicylic acid and nourishing oils to deeply hydrate the skin, while emulsifying with water to completely remove heavy makeup, excess oil, dirt and other pore-clogging impurities without leaving behind any residue or strip the skin of it's natural oils.
Notes from the Curator: This gentle oil cleanser is specially formulated for even the most sensitive skin, to lightly exfoliate and help keep blackheads and dead skin cells at bay. Encapsulated salicylic acid helps fight breakouts for clearer, softer skin. This gentle pore Cleansing Oil is great for congested skins. It helps soften impurities for easier removal, it is very effective at removing pollution and debris, leaving the skin feeling hydrated and very well nourished.
Let's get Nerdy: Double encapsulation of Salicylic Acid is a multi-layer technology. The Salicylic Acid is contained in sub-micron spheres (0.1-2 microns in diameter) which are then re-encapsulated into larger microspheres (30-50 microns in diameter). The wall of the microsphere ruptures when the product is rubbed onto the skin when in the presence of water. At this point, the sub-micronspheres are released onto the skin. Salicylic Acid double encapsulated technology extends the release of the Salicylic Acid onto the skin. Itexposes the skin to small amounts of acid over a longer period of time, rather than one large amount at once. This unique feature allows higher levels of Salicylic Acid to remain on the skin for several hours. for better efficacy and acne-fighting power without irritation.
Size: 50ml
Free U.S. Shipping, No MinimumSubscribers Save 15% In Our Retail Shops Every Day!
About the Brand

Lovinah was created by Joy Ekhator as a modern interpretation of the ancient herbal traditions she grew up experiencing in her native Nigeria through her grandmother who was an herbalist, a traditional doctor, bone setter & midwife. Lovinah was initially started as a hobby, as Joy worked in tech in the U.S. Three back to back pregnancies, coupled with the frustration of not getting the promotions she deserved, the stress & hormones took a toll on her skin & health. She says, "I quit my job & went to Africa to seek peace & brainstorm on my next month. I came back to the States & started working on Lovinah full time".

How to Use

Pump the product once more and thoroughly massage problem areas around the nose, forehead, and cheeks.
Wet your hands with lukewarm water and massage for thirty seconds more.
Rinse thoroughly with lukewarm water
This gentle cleanser can be used daily for even the most sensitive skin.

Pore Cleansing Oil Ritual:

1- Face Steaming Treatment
Open up the pores by using steamed towel to wrap the face for three to five minutes to open up the pores.

2. -Hydrating Mask Treatment
Pump and massage this sacred oil on the face for thirty seconds and rinse with water

3.- Black Head Treatment
To help remove blackheads, pump and gently massage product thoroughly to problem areas around the nose, forehead, and cheeks. Leave for a couple of minutes and then rinse with warm water

4.- Create Creamy emulsion based cleanser
Gently wet your hands and pump product. Massage to remove even the most stubborn makeup and rinse with water.

Ingredients

Silybum Marianum (Milk thistle) Seed Oil, Raphanus sativus (Radish) Seed Oil, Crambe Abyssinica, Solanum Lycopersicum (Tomato) Seed Oil, Psidium Guajava Seed Oil, Cloudberry (Rubus Chamaemorus), Vaccinium vitis-idaea (Lingonberry) Seed Oil,Chokeberry (Aronia Melanocarpa) Seed Oil, Momordica Cochinchinensis (Gac Seed) Oil , Croton Lechleri Resin Extract, Tetrahexyldecyl Ascorbate ,Polyglyceryl-3 Palmitate ,Polyglyceryl-4 Oleate , Polyglyceryl-5 Oleate , Salicylic Acid, Tocopherol (Vitamin E), Lithospermum Erythrorhizon (Gromwell root extract), Solanum Lycopersicum (Lycopene) Fruit Extract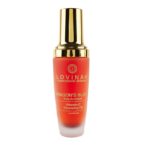 Dragon's Blood BHA Cleansing Oil
Free U.S. Shipping, No MinimumSubscribers Save 15% In Our Retail Shops Every Day!