Dragon's Blood Dark Spot Correcting Serum
October 11, 2022
LOVINAH
Dragon's Blood Dark Spot Correcting Serum
$125.00 $
Free U.S. Shipping, No MinimumSubscribers Save 15% In Our Retail Shops Every Day!
Lovinah Dragon's Blood Dark Spot Correcting Serum
What is it? Dragon's Blood Advanced Antioxidant Dark Spot Correcting Serum is an innovative, highly concentrated miracle in a bottle. Formulated with fermented rooibos tea, Chios Mastiha water, 8 skin brightening ingredients, probiotics, prebiotics and peptides, this potent serum is based around antioxidants and designed to help boost hydration, create a barrier against pollution and environmental damages, correct uneven texture, brighten dark spots, stimulate collagen production and boost hydration and help to reduce excess sebum production.
Notes from the Curator: The Dragon's Blood advanced antioxidant and dark spot correcting serum is designed to target breakouts, blemishes, dark spots, hyperpigmentation and uneven skin tone.
Let's Get Nerdy: This powerful antioxidant serum is rich in ancient beauty remedies combined with bleeding edge modern technology to help boost collagen production, stimulate cellular renewal and protect the skin against environment damages. A combination of probiotics, prebiotics and peptides to help maintain a healthy skin's microbiome by boosting the skin's natural defense for intense hydration, reduced inflammation and improve overall skin health.
Dragon's Blood
This is a tree sap from the sangre de drago tree and in ancient times was used to promote healing. When applied topically, the sap dries quickly to form a unique barrier, much like a second skin. It's also known as the natural bandage because the red latex can be used in an emergency as a liquid bandage by simply applying the sap to an open wound, and it will help stop bleeding and prevent infection. This protective shield helps regenerate the skin and prevents further damage with its anti-bacterial, anti-viral, and antioxidant qualities. Dragon's blood sap also contains taspine, a known tissue-healing agent and the dark red resin is prized for its healing, nourishing, hydrating and anti-inflammatory benefits.
Undecylenoyl phenylalanine
An organic compound with powerful skin brightening properties without the negatives of hydroquinone. In several scientific trials and dermatological tests, it has been identified to be very effective, safe and fast in helping to brighten dark spots/hyperpigmentation
Nymphaea alba extract
A powerful and natural skin brightening agent which can also be used by people with sensitive skin. It works to help soothe the skin and decrease this hyperpigmentation for a bright even tone.
Size: 1.5 oz / 40ml
Please Note: Purchase this if you plan to use it immediately- it is fresh but has a short shelf life for potency
Best By Oct 2023 – Final Sale – No Returns Or Refunds. Limited Availability!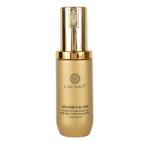 Dragon's Blood Dark Spot Correcting Serum