Dragon's Blood & Mastic Sacred Water
February 17, 2021
LOVINAH
Dragon's Blood & Mastic Sacred Water
$55.00 $
Free U.S. Shipping, No MinimumSubscribers Save 15% In Our Retail Shops Every Day!
What is it? Dragon's Blood & Mastic Sacred Water is highly concentrated mist with ceramides will intensely saturate the skin with moisture, vitamins and nutrients. A true multi-functional mist which provides protection, hydration, plumping and brightening effects all in one formula.
Notes from the Curator: This hydrating Ceramide Serum Mist helps to protect skin by working as cement between cells and prevents the evaporation of moisture due to the ceramide complex and help to support the skin's natural moisture barrier.
Let's get Nerdy: Dragon's Blood is a sap from the Amazons used since ancient times for healing and protecting the skin, its known for reducing redness and swelling. It also is the highest source of antioxidants in the world and wards off free radicals that cause premature ageing. It also deeply moisturizes, promotes cell renewal and even boosts collagen production. It is also known as a liquid face-lift, it adds volume to hollow skin and makes it plumper and younger.
Size: 50ml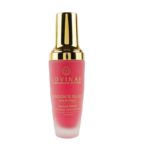 Dragon's Blood & Mastic Sacred Water