Dragon's Blood Probiotic Exfoliation Mask
October 18, 2022
LOVINAH SUPERNATURAL SKINCARE
Dragon's Blood Probiotic Exfoliation Mask
$85.00 $
Free U.S. Shipping, No MinimumSubscribers Save 15% In Our Retail Shops Every Day!
What is it? Lovinah Dragon's Blood Probiotic Exfoliation Mask addresses your main skin concerns, effectively fighting adult acne and the signs of premature aging. The mask's key ingredient is Dragon's blood, a tree sap that forms a protective 'second skin' acting as a shield from outside aggression, all while promoting skin cell turnover.
Notes from the Curator: This is your one-step solution to healthier, younger-looking skin. It provides gentle exfoliation and unclogs the pores, increases blood circulation and promotes cell turnover.
Let's Get Nerdy: Dragon's Blood has anti-inflammatory and antimicrobial properties and although suitable for all skin types, it's particularly recommended for sensitive skin, because of its soothing nature. Its unique formula with powerful botanicals, herb and fruit enzymes and Rooibos tea contains all the nutrients your skin needs.
Size: 50 ml / 1.7 oz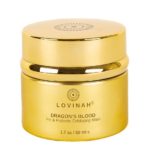 Dragon's Blood Probiotic Exfoliation Mask