Even Lavender Mineral Water / Clarifying Face Tonic
March 4, 2023
LEPAAR
Even Lavender Mineral Water / Clarifying Face Tonic
$35.00 $
Free U.S. Shipping, No MinimumSubscribers Save 15% In Our Retail Shops Every Day!
What is it? Even Lavender Mineral Water / Clarifying Face Tonic is a soothing evening tonic composed to settle your skin and senses at the end of the day. Lavender has the ability to adapt to your body's needs and will lift where there's heaviness, and soothe where there's anxiety and stress.
Notes from the Curator: Energetically, Lavender has cooling properties, dissipates aggression and drama, settles emotional imbalance, and lifts the spirit. A must have for sensitive, inflamed, acne prone skin, and great to restore the skin's mantle after removing make up.
Let's Get Nerdy: ORGANIC LAVENDER FLOWER HYDROSOL
Soothes inflamed, red and irritated skin. Antibacterial properties help controls acne. Cools the skin, relaxes the heart, soothes the spirit.
WILDCRAFTED MYRRH RESIN HYDROSOL
Rejuvenates skin. Fades pigmentation. Facilitates speedy wound healing.
WILDCRAFTED FRANKINCENSE SACRA RESIN HYDROSOL
Comforts the soul, lifts anxiety. Tones and firm. Stimulates cell repair and balances pigmentation.
ANCIENT ZECHSTEIN MAGNESIUM CHLORIDE
Highly therapeutic for psoriasis, eczema, and other skin conditions. Promotes quick healing of skin tissue. Provides the skin's surface with anti-allergic elements essential for cell metabolism. Soothes skin, relaxes body muscles and calms nerves.
HIMLAYAN CRYSTAL SALT
Provides the skin with 84 vital trace elements. Anti-viral and anti-bacterial protection. Recharges the body's life force.
24 KARAT GOLD
Receives sun energy and grounds intentions. Improves circulation. Boosts collagen integrity.
Size: 50 ml / 1.7 fl oz
Fragrance Profile: Literally a night cabriolet drive through Provence. Notes of resinous woody Myrrh and Frankincense ever so lightly ground the herbaceous sweet linger of the Lavender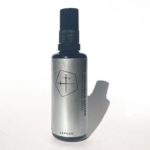 Even Lavender Mineral Water / Clarifying Face Tonic