Mandarin Mecca Coffee Scrub / Lustre Restoring Body + Face Exfoliant
March 4, 2023
LEPAAR
Mandarin Mecca Coffee Scrub / Lustre Restoring Body + Face Exfoliant
$52.00 $
Free U.S. Shipping, No MinimumSubscribers Save 15% In Our Retail Shops Every Day!
What is it? Mandarin Mecca Coffee Scrub / Lustre Restoring Body + Face Exfoliant is a  luxuriously complex, non-abrasive scrub to restore lustre and bounce to thighs, butts and face. Composed with used coffee grounds, the beautifully fragrant and velvet soft waste that usually gets thrown out after extraction.
Notes from the Curator: The low residual amount of caffeine in coffee waste is a gently effective way to deliver all the benefits of a good coffee scrub without the hardcore downsides of a transdermal caffeine hit. Because it contains soft textured coconut sugar instead of hard crystal edged brown sugar, this scrub is gentle enough to use on face and body without micro tearing.
Let's Get Nerdy:  SUSTAINABLY HARVESTED + ROASTED EXPRESSED COFFEE GROUNDS
Reduces cellulite. Decreases inflammation. Increases cell turnover.
ORGANIC LINSEED
Nourishes and moisturises. Gently exfoliate and unclog pores. Tones, tightens + plumps.
ORGANIC BABASSU SEED OIL
Antioxidant. Restores barrier function. Anti-bacterial, anti-microbial, anti-inflammatory.
DEMETER BIODYNAMIC OLIVE OIL
Cell regeneration. Antioxidant. Maintains moisture + elasticity.
WILDCRAFTED MANDARIN PEEL EXTRACT
Improves skin tone. Increases collagen. Corrects oil balance.
ORGANIC COCONUT SUGAR
Gently exfoliates without abrasion. Supports cell turnover. Breaks down dead, flaky skin.
PINK HIMALAYAN CRYSTAL SALT
Contains vital trace elements small enough for our body to absorb via the skin.
Detoxifies the body by balancing systemic PH.
Improves hydration by providing trace minerals.
WILDCRAFTED MYRRH RESIN EXTRACT
Rejuvenates. Fades pigmentation. Heals wounds + hearts.
WILDCRAFTED FRANKINCENSE RESIN EXTRACT
Tones + firms. Fades pigmentation. Lifts anxiety.
ORGANIC MANDARIN PEEL ESSENTIAL OIL
Purifies and detoxes skin and mind. Improves blood circulation. Calms anxiety, nausea and feelings of irritation.
24 KARAT GOLD
Improves circulation. Boosts collagen integrity. Receives sun energy, grounds intention.
Size: 215 ml/ 7.3 fl. oz
Fragrance Profile: A Middle Eastern journey through the streets of Mecca, fragrant with chocolate Mocca, enlivened with notes of sweet mandarin, hints of lemongrass and softening caramel. A 1001 night sensory dream.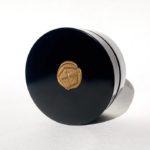 Mandarin Mecca Coffee Scrub / Lustre Restoring Body + Face Exfoliant