Everlasting Body Butter Soufflé
February 17, 2021
LOVINAH
Everlasting Body Butter Soufflé
$110.00 $
Free U.S. Shipping, No MinimumSubscribers Save 15% In Our Retail Shops Every Day!
What is it? Deliciously rich body butter with blend of indigo, Nilotica, colloidal oat, blue tansy, everlasting plant infused with ancient skin soothing botanicals for their ability to rejuvenate, soothe and hydrate the skin.
Notes from the Curator: Everlasting rich body butter Soufflé is not greasy and will quickly absorb into the skin to provide powerful nutrient where it's most needed. It contains beautiful blue oils; blue tansy, blue cypress, and blue yarrow which are known for their skin healing and calming properties making this a great product for all skin types, to help boost the skin's barrier and provide long-lasting hydration.
Let's get Nerdy: This rich butter got her name from the Life Everlasting plant. Everlasting plant contain essential fatty acids, which are beneficial to the skin. It is loaded with natural antioxidants that helps to protect the skin against environmental damages, provides powerful moisturizing and hydrating benefits for dry or chapped skin. It also helps to calm and soothe sensitive skin. Indigo is another key ingredient in this luxurious body butter. Indigo plant was used in ancient African tradition to treat rheumatism, due to it's powerful anti-inflammatory properties. Everlasting is a magical blend of ancient remedies to help soothe and nourish the skin with potent extracts.
Size: 40z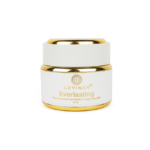 Everlasting Body Butter Soufflé