Lime Leaf Sambal
March 18, 2021
AURIA'S MALAYSIAN KITCHEN
An exquisitely mellow Sambal featuring the fragrance of the makrut lime leaf. Handmade in Brooklyn. Adds mild heat and glorious flavor to everything from marinades to stir-fries or simply eaten as-is.
Sambal is a ubiquitous condiment throughout Malaysia. The word Sambal refers to a blend of ground peppers and aromatics, with the main ingredient being fresh chillies.
In Malaysia, green sambal can be found at humble roadside eateries. Either mild or fiery, they're used to accompany the various dishes offered. Each cook has their own recipe for it, influenced by regional differences and the availability of fresh ingredients.
Made with Makrut lime leaves, Lime Leaf Sambal brightens up all your favorite dishes with 100% authentic Southeast Asian flavor.
• – Family recipe
• – Handmade in small batches
• – 100% natural ingredients
• – No added preservatives
• – Made in Brooklyn
Size: 8oz/237g
Free U.S. Shipping, No MinimumSubscribers Save 15% In Our Retail Shops Every Day!
About the Brand

Auria was born and raised in a tiny town called Seremban in Malaysia. She grew up surrounded by the delicious cuisine of her homeland and soaked up the diverse culinary culture that reflected the multi-ethnic makeup of the people. In her mother's kitchen, she learned how to cook the sumptuous curries, delectable noodle dishes, and various exquisite meat and seafood preparations with Malay, Chinese and Indian influences.

How to Use

• Use it as a condiment on the side of a plate of noodles or rice.
Pick up a dab with each forkful - you control how much heat each bite needs.

• Marinade seafoods, poultry and meats - either alone and in combination with other ingredients.

• Spice up stir-fries.

• Mix into mayonnaise or ketchup for a spicy sandwich spread.
Also great in grilled cheese sandwiches.

• Add to soups, stews and casseroles.

Ingredients

Fresh Chillies, Dried Green Peppers, Canola Oil, Garlic, Cane Sugar,
Lime Juice, Kosher Salt, Makrut Lime Leaves.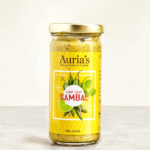 Free U.S. Shipping, No MinimumSubscribers Save 15% In Our Retail Shops Every Day!