Luminous Beauty Balm | After Sun Moisture Lock
February 17, 2021
LEPAAR
Luminous Beauty Balm | After Sun Moisture Lock
$110.00 $
Free U.S. Shipping, No MinimumSubscribers Save 15% In Our Retail Shops Every Day!
What is it? Lepaar Luminous Beauty Balm is deeply hydrating, ultra soft recovery balsam with traditional medicinal qualities that nurtures the most sensitive skin, especially beneficial after element exposure
Notes from the Curator: Composed with sun-infused whole plant extracts and pure seed oils, this luxurious anti inflammatory balm helps calm irritated, broken out skin; facilitate wound healing and repair elemental damage; maintain collagen; neutralise free radicals; replenish and lock in moisture; and rejuvenate tired and lack lustre skin. A micro dose of Wild Carrot, Chamomile and Rose essence amplify all of the above properties and active the ethereal body.
Let's get Nerdy: Energetically, Wild carrot essence grounds the being and brings sensory awareness. Chamomile essence reduces stress and anxiety without disrupting normal performance and function. Rose essence opens and strengthens the heart space to radiate love, joy and happiness.
Size: 1 oz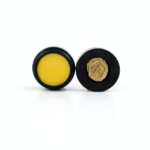 Luminous Beauty Balm | After Sun Moisture Lock