Luxurious Body Firming Oil / Deep Tissue Strengthening Composition
March 4, 2023
LEPAAR
Luxurious Body Firming Oil / Deep Tissue Strengthening Composition
$65.00 $
Free U.S. Shipping, No MinimumSubscribers Save 15% In Our Retail Shops Every Day!
What is it? Luxurious Body Firming Oil / Deep Tissue Strengthening Composition is a powerfully active full body oil composed to firm, strengthen and moisturise the skin. Sun-infused whole plant extracts and precious seed oils help reduce stretch marks, lock in moisture, strengthen elasticity, and revitalise skin tone and subtlety.
Notes from the Curator: Energetically, micro dosed essential oils of Neroli relax the mind, lift anxiety and bring peace + tranquility, while Sandalwood strengthens focus and heightens spiritual awareness.
Let's Get Nerdy: ORGANIC CALENDULA FLOWER EXTRACT
Cell regeneration. Activates the skin's natural defence. Maintains moisture + elasticity. Replenishes collagen
ORGANIC CAMELLIA SEED OIL
Retains elasticity. Softens the skin. Fades stretch marks.
DEMETER BIODYNAMIC OLIVE OIL
Cell regeneration. Antioxidant. Maintains moisture + elasticity.
ORGANIC WHEAT GERM OIL
Vitamin E powerhouse prevents and reduces stretch marks. Prevents photo-aging. Provides natural SPF.
ORGANIC SESAME SEED OIL
Neutralises free radicals. Hydrates. Replenishes Vitamin E
ORGANIC MILK THISTLE SEED OIL
Supports the immune system. Aids oxidative stress recovery. Strong detox capacity
ORGANIC ARNICA FLOWER EXTRACT
Heals skin trauma.. Reduces stretchmarks. Aids new tissue growth.
ORGANIC VANILLA EXTRACT
Neutralises free radicals. Cell regeneration. Antioxidant.
ORGANIC SAFFRON STIGMA EXTRACT
Increases oxygen flow. Neuro-protective. Antioxidant
WILDCRAFTED MYRRH RESIN EXTRACT
Rejuvenates. Fades pigmentation. Heals wounds + hearts.
WILDCRAFTED FRANKINCENSE RESIN EXTRACT
Tones + firms. Fades pigmentation. Lifts anxiety
ORGANIC + WILDCRAFTED ORGANIC BITTER SAVILLE ORANGE 'NEROLI' EXTRACT + ESSENTIAL OIL
Rejuvenates dull skin. Minimises pores. Relaxes the mind.
SUSTAINABLY WILDCRAFTED SANDALWOOD EXTRACT+ ESSENTIAL OIL
Provides deep hydration. Promotes focus. Rejuvenates tired skin skin and attitude.
24 KARAT GOLD
Improves circulation. Boosts collagen integrity. Receives sun energy, grounds intentions.
Size: 100 ml/ 6.76 fl.oz
Fragrance Profile: Warm sultry Arabian nights, vibrating with exotic Vanilla, bittersweet Orange blossom and only the faintest allure of Saffron. Tempered by ever so lightly toasted grain, slow dancing with mysterious smoke of Sandalwood and rounded by resinous, woody Myrrh and herbaceous Frankincense. Inhale, breathe, feel loved.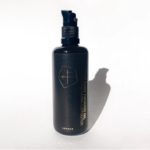 Luxurious Body Firming Oil / Deep Tissue Strengthening Composition