Nakki Whipped Volumising Conditioner
November 5, 2021
ABHATI SUISSE
Nakki Whipped Volumising Conditioner
$39.00 $
Subscribers Save 15% In Our Retail Shops Every Day!
What is it? Abhati Nakki  Whipped Volumising Conditioner is zero-gravity hair repair from cortex to cuticle. It supplies nourishment to the cortex layer, responsible for the hair's strength, elasticity and pigmentation. It also boosts the hair's defense system, located in the outer layer or cuticle, to hold in moisture and improve the integrity of overall hair structure without adding weight.
Notes from the Curator: Nakki works from the inside to make your hair look great on the outside. It empowers cortex, colour and cuticle for body, bounce and brilliance.
Let's Get Nerdy: ABHATI Suisse's Nakki features Himalayan wild cherry oil that tames your mane and is the champion botanical ingredient with a generous dose of vitamin A. It is joined by scalp-nourishing moringa and fortifying mango seed butter from India. Add integrity with Swiss rosehip, for new vitality that comes from within.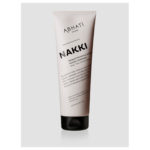 Nakki Whipped Volumising Conditioner