King City Pink Bean
February 23, 2021
RANCHO GORDO
King City Pink Bean
$9.99 $
Rancho Gordo King City Pink Bean
King City Pink Bean is a new heirloom bean from King City, California, with a rich history and a dreamy bean broth.
It has a thin skin and a dense yet creamy interior. You would think these pink beans would be a good substitute for the small, pink Santa Maria Pinquitos, but they're not. King City Pinks are closer to Buckeye; dense but not stodgy, they have a thin skin and produce a rich bean broth. They are outstanding in their own right.
Suggestions: pot beans, beans with sauteed greens, baked beans.
From The Rancho Gordo Kitchen: A great option for beans and greens: combine King City Pink beans and their bean broth with your favorite sauteed greens. Serve them over a bowl of steaming rice, or use them in a chili.
Origin Story: King City Pinks were mentioned by John Steinbeck in his seminal novel, Tortilla Flat. They helped put King City, California on the map in the 1930s and the bean's popularity peaked just after World War II. They remained popular locally but they have taken a backseat to the more glamorous Santa Maria Pinquito from further south. Yes, we said glamorous. "Finally, she called Danny's friends into her kitchen and explained that it was beans that they needed. The fire of their passion renewed, that night, four shadowy figures snuck past the sleeping guard and into the Western Warehouse Company. They emerged shortly afterwards struggling through the shadows under the tremendous weight of four one hundred pound sacks of pink beans." -from Tortilla Flat by John Steinbeck
Size: 1 Lb Bag
Free U.S. Shipping, No MinimumSubscribers Save 15% In Our Retail Shops Every Day!
About the Brand

Rancho Gordo was founded by Steven Sando

How to Use

COOKING TIPS

How to cook the King City Pink Bean

1. There is not one single method of cooking beans. At its most basic, you want to simmer the pot until the beans are soft. Soaking can speed up the process and vegetables or stock will make them more flavorful. It's really that simple. There's all kinds of fine tuning and variables, but basically, this is it.

2. Cooking Beans in a Crockpot
Sauté half of a chopped onion in about one tablespoon of fat (oil, lard, bacon fat, etc.). Place in a crockpot along with any other aromatics you'd like (such as Mexican oregano, garlic, bay leaf), followed by beans that have been picked over and rinsed. Cover with plenty of water (about one part beans to three or four parts water). Turn the heat to "high" and give the contents a stir. Do this in the morning, and your beans should be done by the afternoon. Cooking time will be 4 to 6 hours, depending on your crockpot and the variety of beans.

3 Stovetop Basics (The Step-by-Step Version)
* Check the beans for debris, and rinse in several changes of water.
* Saute aromatic vegetables in olive oil.
* Add the dried beans and enough liquid to cover by about 2 inches.
* Bring the pot to a rapid boil for 10 to 15 minutes.
* Lower the heat to a gentle simmer until the beans are done, between 1 hour and 3 hours. If the bean-cooking water starts to get low, add hot water.
* Salt when the beans are just starting to turn soft.

4 Cooking Beans in a Pressure Cooker
First, consult the manufacturer's instructions for the exact method for your model. Place cleaned beans in the pressure cooker and cover with three or four parts water. Generally, you want to cook under pressure for 20 to 40 minutes, depending on the bean, release pressure naturally, and then cook open on the stovetop for another 20 minutes to develop the broth

Ingredients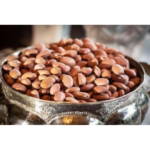 Free U.S. Shipping, No MinimumSubscribers Save 15% In Our Retail Shops Every Day!