Pinto Bean
February 17, 2021
RANCHO GORDO
Rancho Gordo Pinto Beans
The classic bean. Soft, creamy and versatile, Rancho Gordo's Pintos cook quickly and create converts to new crop, heirloom beans.
The poor pinto doesn't get the respect it deserves. With all of its glamorous cousins hanging around, it's hard to grab a little of the spotlight, until someone wisely cooks them up. You are in for a pleasant surprise. Pintos can be great! Especially when they're as fresh as Rancho Gordo.
Suggestions: pot beans, refried beans, soup, casseroles
Size: 1 Lb Bag
From The Rancho Gordo Kitchen: You can use Pintos in all kinds of cooking, from pot beans to refried beans. They're essential to Norteno cooking, and they're the best friend a plate of carne asada has ever had.
Free U.S. Shipping, No MinimumSubscribers Save 15% In Our Retail Shops Every Day!
About the Brand

Rancho Gordo was founded by Steven Sando

How to Use

COOKING TIPS

You can use them in all kinds of Latin and Mexican cooking, from pot beans to refried beans.

* Drunken Beans
1. Warm 2 cups Pinto cooked beans over medium-low heat. Stir in ½ bottle beer.
The beans should be somewhat soupy. Add more beer if too thick; or turn up the flame and cook off excess liquid if too thin.
2. Cook 1 piece of bacon in an ungreased frying pan over medium-low heat until fat is mostly rendered. Remove bacon and excess fat, leaving about a tablespoon.
Add ½ chopped onion, 2 cloves of minced garlic and 3 minced serrano peppers and sauté until soft, then add ½ pound mushrooms. Cook until soft. Chop bacon and add to mixture.
3. Add mushroom/bacon mix to the pot of beans.
Mix thoroughly and cook for another 10 minutes. Test for seasoning.
Serve with a lime wedge.

*Bean Soup

In a large pot, combine 1 & ½ cups Pinto beans picked and rinsed, oil, garlic, sage, and water and place over medium heat. Bring to a boil, reduce the heat to very low, and simmer gently, uncovered, until the beans are tender, 2–3 hours.
Do not allow the water to boil and add more water as needed to keep the beans covered by 2 inches of water. The only way to know when the beans are done is to taste them. Add the salt during the last 10 minutes of cooking.
About 30 minutes before the beans are ready, bring a saucepan filled with salted water to a boil over high heat. Add ½ cup semi-pearled farro and cook until just tender, about 20 minutes. Drain the farro and reserve.
When the beans are ready, remove from the heat. Transfer half of the beans and bean broth to a clean soup pot. Working in batches if necessary, transfer the remaining beans and bean broth to a blender and puree until smooth. Add the puree to the soup pot and stir to mix well, then stir in 2 tablespoons tomato paste, if using.
Place the pot over medium heat and heat, adding water if the soup is too thick and stirring often, until the soup is piping hot. Add the farro and heat through.
To prepare the garnish, in a small skillet or saucepan, warm oil and herbs over low heat until the herbs are fragrant. Remove from the heat.

Ingredients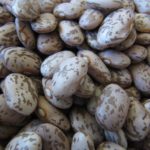 Free U.S. Shipping, No MinimumSubscribers Save 15% In Our Retail Shops Every Day!