You cannot add "Reservoir Prebiotic Skin Fortifying Mist" to the cart because the product is out of stock.
Reservoir Prebiotic Skin Fortifying Mist
April 1, 2023
Reservoir Prebiotic Skin Fortifying Mist
$60.00 $
Free U.S. Shipping, No MinimumSubscribers Save 15% In Our Retail Shops Every Day!
What is it? Reservoir Prebiotic Skin Fortifying Mist is a multi-functional facial mist that enhances and preserves the hydration within your cells while the prebiotic feeds the beneficial microbiome on your skin allowing it to multiply and thrive achieving a balanced state. When the microbiome is in harmony the skin orchestrates all of its natural functions in perfect synchrony to reach a healthy state in which it is plumper and smoother while having a stronger barrier and less sensitivity with better hydration retention.
Notes from the Curator: Reservoir serves as a delivery vehicle for your serum, cream, and balms and is critical last step of protection in your ritual. It amplifies the glow in bare skin or provides a dewy look over your makeup. It can also be used as an enhancement to your masking session.
Let's Get Nerdy: Reservoir saturates the skin surface with cooling droplets of botanical waters like mint and chamomile, combined with synergistical adaptogen plant extracts to offer instant hydration and antioxidant protection. An infusion of copper and silver colloidal with propolis helps the skin's elasticity, bacteria fighting mechanism and wound healing ability. This is great for acne. Combinations of vegan glucosamine and various molecule sized sugar are to hydrate the skin from the deepest layers to the outermost surface resulting in firmer and plumper appearance.
Result: expect your skin to feel firmer with long-lasting hydration.
Scent Experience: Imagine standing in an open field under a blue sky, the warmth of the sun on your skin, there are sweet scented flowers carried through the air by a faint breeze with a hint of mint garden, citrus tree and cedar wood that refreshes your mood and envelopes your skin like sunshine.
Size: 50ml
Out of stock
Join The Waitlist
We will inform you when the product is back in stock. Please leave your valid email address below.
About The Brand

Siam Seas was created by Supadra Geronimo to bridge the gap between Eastern and Western botanicals, and inspire a new way of thinking about skin and body care. She was born aand grew up in Thailand and moved to the U.S.A. She left a career as a competitive pool player, to realize her vision for Siam Seas that was inspired by the the time she spent with her herbalist grandmother in Thailand. Supadra is passionate about reintroducing the time-honored ingredients and philosophies of Southeast Asia to a new generation across the globe.

How To Use

As a delivery vehicle: mist Reservoir generously before massaging in your serum, cream or balm onto the skin.

As a glow booster: mist Reservoir generously over the skin as a last step after everything else. This will leave a subtle healthy glow on the skin while protecting the skin's hydration.

As an enhancement: mist Reservoir generously over facial mask. This will improve the hydration and nutrient absorption.

Ingredients

Linden Hydrosol* (synergistically with other ingredients in the formula to calm irritated skin), Roman Chamomile Flower Hydrosol* (anti-itch, reduces redness), Aloe Inner Fillet Gel* ( heals wound, hydrates skin), Spearmint Hydrosol* (supports skin's elasticity, softens fine lines), Peppermint Hydrosol* (releases heat, soothes itch and redness), Rose Flower Hydrosol* (softens fine lines, soothes redness/irritations), Witch Hazel Hydrosol* (antibacterial, reduces swelling), Colloidal Copper (stimulates collagen for better elasticity and wound healing ability), Turmeric Hydrosol* (reduces inflammation), Colloidal Silver (strong antibacterial properties, heals infection), Bee Propolis (kills bacteria, heals wounds, strong antioxidants), Caprylic/Capric Triglyceride (increase skin's moisture retention, smooths skin texture), N-Acetyl-glucosamine** (increase collagen production, moisture content and elasticity in the skin), Lactobacillus Ferment, Lactobacillus, Coconut Fruit Extract (probiotic based preservatives against bacteria, yeast and mold), Phospholipids & Panthenol (encapsulated vitamin B5 for higher skin penetration rate, soothes sensitivity and irritation), Clove Basil Extract* (prevents acne, reduces active inflammation in active acne), White Oak Extract* (astringent, balances oily skin), Sodium PCA (draws and secures moisture into the skin, anti-allergens), Caprylyl Capryl Glucoside (solvent for essential oils), Xylitol, Xylitylglucoside, Anhydroxylitol (instant hydration and provides immediate glow on the skin), Saccharide Isomerate (deeper and more lasting hydration and skin plumping effect), Amurcork Tree Extract* (expedites skin healing process for trauma induced skin condition such as acne, eczema and rosacea), Golden Seal Extract* (soothes eczema, anti-itch and heals wound), Coptis Extract* (reduces flush and swelling, expedites skin healing)), Oregon Grape Extract*(known to treat scaliness, and soothes sensitivity such as psoriasis, rosacea, eczema) Barberry Extract*(kills acne-causing bacteria), Ginger Extract*(stimulate circulation, antioxidants), Babchi Extract*(stimulates cell-renewal, evens overall skin tone), Boswellia Extract*(tones and limits damages from UV rays), Chinese Gallnut Extract* (treats fungal infection), Black Atractylodes Extract* (spot lightener for post-trauma hyperpigmentation), Licorice Extract* (skin brightener), Geranium Rose oil* (tightens the skin and balances oil production), Ylang Ylang Extra Oil* (boosts regenerative process of the outer skin layers), Cedar Wood Oil* (antiseptic, soothes stressed skin), Bergamot Peel Oil***(FCF)(balances oil production, cleanses pores), Cardamom Oil* (antioxidants, fights infection), Blue Tansy Oil*(reduces redness, irritation and inflammation).   *Organic ** Vegan ***Organic and FCF which means furocoumarin (a phototoxin constituent) free.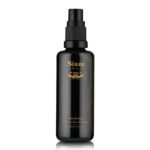 Reservoir Prebiotic Skin Fortifying Mist
Out of stock
Join The Waitlist
We will inform you when the product is back in stock. Please leave your valid email address below.