Royalty Retinol Body Serum
October 18, 2022
LOVINAH
Royalty Retinol Body Serum
$125.00 $
Free U.S. Shipping, No MinimumSubscribers Save 15% In Our Retail Shops Every Day!
What is it? Lovinah Royalty Retinol Body Serum is a concentrated body oil serum inspired by African botanicals to celebrates the 'beauty of you'. This powerful retinol body oil is designed to be suitable for all seasons and skin types and it will deliver skincare's most efficient anti-aging ingredients along with actives that fortify the integrity of the protective, moisture-retaining skin barrier. Royalty is a luxurious blend of antioxidant and omega rich oils infused with retinol, peptides and ceramides that absorbs immediately into your skin to deliver a radiant and glowing complexion.
Notes from the Curator: It is a multi-faceted and high-performance retinoid oil that counteracts signs of skin aging and supports the regenerative skin process with minimum irritation and promotes healthy, smooth, soft, and youthful glow.
Let's Get Nerdy:
Royalty is enhanced by the incorporation of two additional ingredients, Sytenol® (bakuchiol) and Vitamin C. While bakuchiol is known to have retinol-like properties,  it also combine beautifully with the function of retinoids in promoting the synthesis of collagen and elastin fiber networks to prevent wrinkles and sagging. Royalty is also a bountiful source of antioxidants, helping to buffer the skin cell from free radical damage and the effects of oxidative stress. THD Ascorbate, an oil-soluble form of vitamin C, synergistically enhances the function of the retinoids contained, also protecting the skin's collagen, fending off free radical damage, and brightening the skin considerably.
The final leg of the formula tends to the skin's barrier, responsible for both protection and moisture-retention. It does so via ceramide NP, a literal building block of the skin barrier. Royalty is an amino acid-, mineral, and vitamin-rich hydrator. These combination of soothing ingredients help to buffer the skin from potential sensitivity while ensuring that all skin types can benefit from this powerful elixir of youth.
Size: 100 ml / 3.7 oz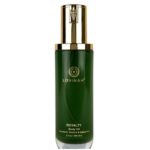 Royalty Retinol Body Serum