Celestial Sphere Gelée Eye Gloss
December 12, 2021
RITUEL DE FILLE
Celestial Sphere Gelée Eye Gloss
$38.00 $
Free U.S. Shipping, No MinimumSubscribers Save 15% In Our Retail Shops Every Day!
Rituel de Fille Celestial Sphere Gelée Eye Gloss
These are beautiful, highly unusual creation suspending extraordinary sparkling iridescent pigments in a rich, emollient gelée base. Each color is inspired by a constellation, and each evokes a different expression of shimmering starlight. They are beautiful elements in your Rituel de Fille collection for creating glossy eye looks, shifting the shade and finish of crème colors, and experimenting with light.
Celestial Sphere Gelée Eye Gloss, including shades Ara and Pyxis, suspend translucent iridescent pigments in a translucent base. This makes for something unexpected: an iridescence like the shift of a morpho butterfly wing, diaphanous, delicate and unexpected. Their color comes only from refraction, so they appear nearly clear until they are hit by the light and reveal the constellations within. These shades can be worn on every part of the face as an eyeshadow, lip topper and even a daring highlighter.
Rituel de Fille Celestial Sphere Gelée Eye Gloss is a lush shimmer eye cream product with a balmy texture, and while these colors may set, they do not dry down. They interact beautifully with the skin for a lived-in, undone look; they will crease, and do it beautifully.
Join The Waitlist
We will inform you when the product is back in stock. Please leave your valid email address below.
Description

Rituel de Fille Celestial Sphere Gelée Eye Gloss. These otherworldly shimmer eye creams capture the shifting shades of celestial bodies brilliantly!

About The Brand

Rituel de Fille was founded by three sisters who were inspired by the magical side of natural ingredients, and the ritualistic, ceremonial power of pigment. As accomplished artists, all three bring a unique vision to colors and imagery.

Ingredients

Serpens:
Ricinus communis (Castor) Seed Oil, Calcium Sodium Borosilicate, Mica (CI 77019), Iron Oxide (CI 77499), Euphorbia Cerifera (Candelilla) Wax, Cera Alba (Beeswax), Titanium Dioxide (CI 77891), Silica (Silicon Dioxide), Tin Oxide (CI 778161), Simmondsia Chinensis (Jojoba) Seed Oil, Rosmarinus Officinalis (Rosemary) Leaf Extract, Helianthus Annuus (Sunflower) Seed Oil, Tocopherol (Non-GMO Soy Derived)

Andromeda:
Ricinus communis (Castor) Seed Oil, Calcium Sodium Borosilicate, Mica (CI 77019), Iron Oxide (CI 77499), Euphorbia Cerifera (Candelilla) Wax, Cera Alba (Beeswax), Titanium Dioxide (CI 77891), Silica (Silicon Dioxide), Tin Oxide (CI 778161), Simmondsia Chinensis (Jojoba) Seed Oil, Rosmarinus Officinalis (Rosemary) Leaf Extract, Helianthus Annuus (Sunflower) Seed Oil, Tocopherol (Non-GMO Soy Derived)

Pyxis:
Ricinus communis (Castor) Seed Oil, Calcium Sodium Borosilicate, Mica (CI 77019), Euphorbia Cerifera (Candelilla) Wax, Cera Alba (Beeswax), Titanium Dioxide (CI 77891), Silica (Silicon Dioxide), Tin Oxide (CI 778161), Simmondsia Chinensis (Jojoba) Seed Oil, Rosmarinus Officinalis (Rosemary) Leaf Extract, Helianthus Annuus (Sunflower) Seed Oil, Tocopherol (Non-GMO Soy Derived)

Ara:
Ricinus communis (Castor) Seed Oil, Calcium Sodium Borosilicate, Mica (CI 77019), Euphorbia Cerifera (Candelilla) Wax, Cera Alba (Beeswax), Titanium Dioxide (CI 77891), Silica (Silicon Dioxide), Tin Oxide (CI 778161), Simmondsia Chinensis (Jojoba) Seed Oil, Rosmarinus Officinalis (Rosemary) Leaf Extract, Helianthus Annuus (Sunflower) Seed Oil, Tocopherol (Non-GMO Soy Derived)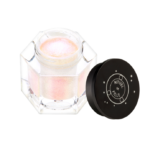 Celestial Sphere Gelée Eye Gloss