Sacred Trinity Anointment Oil / Face, Mood + Spirit Lift
March 4, 2023
LEPAAR
Sacred Trinity Anointment Oil / Face, Mood + Spirit Lift
$49.00 $
Free U.S. Shipping, No MinimumSubscribers Save 15% In Our Retail Shops Every Day!
What is it?  Sacred Trinity Anointment Oil / Face, Mood + Spirit Lift next level rescue remedy and skin fortifying serum composed to firm, tone and lift the skin, erase wrinkles, promote cell renewal, fade sun-spots and protect from the elements.
Notes from the Curator: Energetically, this anointment oil aids meditation, promotes sleep, comforts the mind, improves vision and mental focus, disperses mind fog, lifts anxiety, and eases motion and homesickness.
Let's Get Nerdy: Charged with the sacred ingredients used in ancient anointment oils: Intention-grounding Gold promotes elasticity. Re-aligning Frankincense softens lines. Awareness-heightening Myrrh fades pigmentation.
DEMETER BIODYNAMIC OLIVE OIL
Cell regeneration. Antioxidant. Maintains moisture + elasticity.
ORGANIC CALENDULA FLOWER EXTRACT
Antioxidant. Boosts the skin's natural defence. Heals wounds, replenishes collagen.
ORGANIC VANILLA EXTRACT
Neutralises free radicals. Cell regeneration. Soothes sensitive skin.
DEMETER BIODYNAMIC LIGHT ROOT EXTRACT
Stimulates the endocrine and lymphatic system. Cell-renewing, hormone balancing. Supports the free flow of qi, the life energy.
ORGANIC SAFFRON STIGMA EXTRACT
Increases oxygen flow. Neuro-protective. Antioxidant.
WILDCRAFTED 'MASTIHA' (MASTIC) RESIN EXTRACT
Restores dry and cracked skin. Improves skin texture and elasticity. Fights acne and blackheads.
ORGANIC SAFFRON STIGMA EXTRACT
Increases oxygen flow. Neuro-protective. Antioxidant.
WILDCRAFTED MYRRH RESIN EXTRACT
Rejuvenates. Fades pigmentation. Heals wounds + hearts.
WILDCRAFTED FRANKINCENSE RESIN EXTRACT
Tones + firms. Fades pigmentation. Lifts anxiety
24 KARAT GOLD
Improves circulation. Boosts collagen integrity. Receives sun energy, grounds intention
Size: 10 ml / 0.338 fl. oz
Fragrance Profile: Serenely beautiful, with deep earth, wood and resin from the Frankincense and Myrrh sap, slightly herbaceous/citrus linger that remind of fragrant dry grass. Sensual Vanilla imbues the composition with exotic spice and complex Saffron lifts it all heavenward.
Skin Type: For women and men of all skin types. Benefits tired, deep circled eyes. Great for Meditators, yogis, travellers. All ages.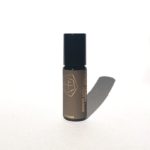 Sacred Trinity Anointment Oil / Face, Mood + Spirit Lift