Sai Clear Skin Serum
March 18, 2021
SIAM SEAS
Sai Clear Skin Serum
$65.00 $
What is it? Siam Seas Sai Clear Skin Serum is an antioxidant serum that synergisstically combines a stable ester of Vitamin C with both science-proven actives as well Southeast Asian botanicals.
Notes from the Curator: Sai means 'clear' in Thai. A very unusual potent serum that creates a second skin-like protective layer that firms the skin and imparts a healthy glow, while clearing the skin. Lovely for all skin types and especially those with combination or acne prone skin. It smells like what we might imagine an ancient magic potion to smell like and was featured in our Beauty Box.
Let's Get Nerdy: This serum contains Dua Shi Gao or Gypsum is used extensively in Traditional Chinese Medicine and is great for tissue regeneration and wound healing. The gypsum contributes to the slight graininess of the formula. Supadra, the creator, uses Sodium Ascorbyl Phosphate (SAP) as her choice of vitamin C ester due to its acne preventing and treating properties.
Size: 30ml
Free U.S. Shipping, No MinimumSubscribers Save 15% In Our Retail Shops Every Day!
About the Brand

Siam Seas was created by Supadra Geronimo to bridge the gap between Eastern and Western botanicals, and inspire a new way of thinking about skin and body care. She was born aand grew up in Thailand and moved to the U.S.A. She left a career as a competitive pool player, to realize her vision for Siam Seas that was inspired by the the time she spent with her herbalist grandmother in Thailand. Supadra is passionate about reintroducing the time-honored ingredients and philosophies of Southeast Asia to a new generation across the globe.

How to Use

Pump 1 – 2 times onto the palm of your hand, rub your palms together to activate & warm up the gypsum powder then apply it onto your face in slightly outward & upward direction. You will barely feel tiny particles like powder on skin. The powderiness then will dissipate as you apply Sai onto your skin.

*Wet skin will allow for better spread-ability. The formula will feel tacky at first, however after a few minutes it will be absorbed, leaving a protective layer of radiant skin. Follow with facial serum or moisturizer.

Ingredients

Oryza sativa (rice) water*, Ascorbyl phosphate, Methylsulfonylmethane, Gluconolactone, Senna tora(cassia tora) water*, Terminalia chebula (chebulic myrobalan) extract*, Unsulfured gypsum fibrosum, Vigna aconitifolia (moth bean) extract, Ceramide NP, Ceramide AP, Ceramide EOP, Phytosphingosine, Cholesterol, Sodium Lauroyl Lactylate, Carbomer, Aloe Barbadensis (aloe vera) juice*, Curcuma longa(turmeric) hydrosol*, Acacia concinna (sompoi) water*, Ocimum gratissimum (basil) extract*, Camellia sinensis (green tea) extract*, Glycerin, Aqua, Sodium Levulinate, Sodium anisate, Silybum Marianum (milk thirtle) fruit extract*, Psoralea corylifolia (babchi) extract*, Boswellia serrate (frankincense) extract*, Gardenia jasminoides (cape jasmine) extract*, Coptis chinensis(coptis)extract*, Phellodendron amurense (amur cork tree) extract*, Scutellaria baicalensis (Skullcap) extract*, Berberis (barberry) extract*, Plumbago zeylanica (chitrak) extract**, Angelica Dahurica(wild angelica) extract*, Glycyrrhiza glabra (licorice) extract*, Paeonia lactiflora (peony) extract*, Azadirachta indica (siamese neem) extract*, Centratherum Anthelminticum(kali jiri)seeds extract**, Andrographis paniculate (king of bitters) extract**, Usnea Barbata (beard lichen)extract*, Baptisia australis (indigo) extract*, Rhus chinensis (galla chinensis) extract*, Myristica fragrans(nutmeg)extract*, Piper nigrum (black pepper) extract*, Hemidesmus indicus (indian sarsaparilla) extract*, Terminalia arjuna(arjuna)extract*, Withania somnifera (ashwagandha) extract*, Rheum palmatum(rhubarb)extract*, Eclipta prostrate (false daisy) extract*, Garcinia mangostana (mangosteen) extract*, Rubus occidentalis (black raspberry) oil, Populus tremuloides (aspen) bark extract*, Raspberryketone Glucoside, Terminalia bellirica (beleric) extract*, Phyllanthus emblica (amla) extract*, Cupressus cashmeriana (weeping cypress) oil*, Rosa centifolia (rose moroc) absolute oil*, Xanthan Gum, Lecithin, Sclerotinum Gum , Pullulan, Vanilla planifolia (vanilla) CO2*, Cananga odorata (ylang ylang extra) oil*

*Organic
**Wildcrafted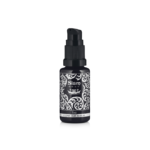 Free U.S. Shipping, No MinimumSubscribers Save 15% In Our Retail Shops Every Day!