Ursolic Acid & Retinal Overnight Reform
April 13, 2023
SACHI SKINCARE
Ursolic Acid & Retinal Overnight Reform
$85.00 $
Subscribers Save 15% In Our Retail Shops Every Day!
Sachi Skin Ursolic Acid & Retinal Overnight Reform
What is it? Ursolic Acid & Retinal Overnight Reform is a cream formulated with all skins in mind, this overachieving, multi-corrective cream works diligently to help boost collagen production, improve cell turnover and target premature agein, whilst combatting sun damage, discolourations and breakouts.
Notes from the Curator:  It brightens, repairs and regenerates and also takes good care of skin,  and ensures that its benefits come without the usual irritation with potent formulations.
Let's Get Nerdy: It contains a powerful proprietary blend of encapsulated Retinaldehyde, patented Liposomal Ursolic Acid and a restorative Tripeptide working alongside an ancient Ayurvedic botanical blend and twelve antioxidants, including brighteners Bakuchiol, Glutathione and Niacinamide.
Targets fine lines and wrinkles
Plumps, smoothes and firms
Minimisesthe appearance of pores
Provides antioxidant protection
Prevents breakouts and fades dark spots
Vegan, cruelty-free, fragrance-free, sustainably sourced
Who This Is For? Suited to all skins and tones, but works especially well for those with uneven textures, or blemish-prone, hyperpigmented, sun-damaged, ageing, dull, and oily skins. Formulated to account for melanated skin needs, this product is able to address post-acne marks and scarring on all skin tones, while minimising the risk of irritation.
Texture? Like a dream: it's a light gel cream that glides on beautifully.
Results?:
First week
The appearance of your texture, tone and pores begin to improve. The skin looks more vibrant and smooth.
Around 4 weeks
Skin tone brightens, as any discolouration fades further. The appearance of fine lines and wrinkles are also greatly reduced as your skin becomes smoother.
Before 12 weeks
Peptides kick in combination with the Vitamin A and Bakuchiol to visibly firm the skin. Lines and wrinkles appear drastically reduced. The skin looks more plump, even, and bright.
Size: 30 ml/ 1 oz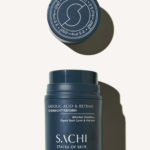 Ursolic Acid & Retinal Overnight Reform