Vibrant Garden Universal Oil
August 30, 2022
LIVE BOTANICAL
Vibrant Garden Universal Oil
$68.00 $
Subscribers Save 15% In Our Retail Shops Every Day!
What is it? A thoughtful formulation of lipids including pomegranate phytosterols, supercritical oat extract, phospholipids, primrose, rice bran, and meadowfoam mimic our skin barrier consisting of cholesterol, ceramides, and essential fatty acids. Locking in moisture for sustained hydration. Akin to a liquid balm that leaves the skin smooth, soft, and protected.
Notes from the Curator: Each plant works in concert to protect against environmental stressors, limit cellular degradation, calm reactivity, even out tone, improve elasticity, fortify barrier function and reduce congestion.
Let's Get Nerdy:
Enriched with a plethora of phytonutrients to help with oxidative damage, slow cellular breakdown, and encourage renewal. A significant amount of the antioxidant powerhouse Açaí pulp oil was added to improve elasticity and firm the skin.
Elevated with supercritical extracts of schisandra and rhatany along with brightening shiitake to limit environmental and UV damage.
Our double extracted herbal infusions of calendula, echinacea, marshmallow, chamomile, rose, yarrow, self-heal, lemon balm, agrimony, and lavender cast a wide net of phyto-compounds. Collectively encourages cellular communication to regulate inflammation responses, balance the biome and strengthen overall skin function. Helping to even out the complexion in a gentle yet potent way.
Lightweight, high linoleic acid fruit seed oils like strawberry, cranberry, and raspberry prevent congestion and rejuvenate the skin.
Size: 50ml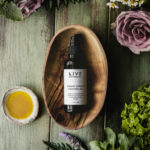 Vibrant Garden Universal Oil