I have to admit I've never been a summer person (give me fall!). However, this year, I'm feeling the need for all the delicious warmth from the sun, light melting all that stress and gloom, and the compulsion to fill my sentences with sun-soaked metaphors. What better way to savor the pleasures of summer than by being drunk on beautiful things—on red wine-filled masks and milky serums made with Rose and Neroli waters.
Once upon a time
Charles Baudelaire told us all
To Be Drunken
But on what?
On red wine & chocolate
On poetry & peptides.
On roses.
Imagine This.
Under the full moon
The fermented lees of wine
like creamy clay, but not clay
mixes with chocolate
and drenches your face.
Decadence, she says.
Imagine This.
Milk infused with
Summer roses and dates,
light like a happy memory
that's not old enough to be
weighed down.
Soak me, she says.
So, inspired by Charles Baudelaire's words, the theme for the June Beauty Box is 'Be Drunken'. This box features a gorgeous duo by Naturallogic that is designed to pamper your skin as well as senses.
1. Luna Biofermented Red Wine Mask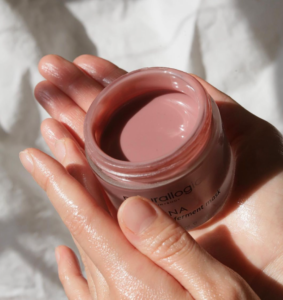 This picture of the gorgeous Luna in the sunlight, evoked the following lines:
"I'll tell you how the Sun rose –
A Ribbon at a time –
The Steeples swam in Amethyst –
The news, like Squirrels, ran –"
– Emily Dickinson
Toni, the founder of the brand, is such an incredible formulator and an absolute genius with masks! I'm not sure exactly what magic enables her to create masks that are so effective yet so gentle.
LUNA is a seasonal limited edition made from purple red wine ferment (lees) mixed with an equal amount of the final, organic Red Wine that is made in-house. Red wine is rich in Polyphenols, Resveratrol, as well as Gluconic acid, and stimulates collagen & elastin restoration, and reduces free radical activity. Luna also contains Ellagic acid rich Strawberry juice, Rosehip extract, gentle pink Kaolin clay, Raw honey, and more!
When Toni & I chatted about collaborating on a box, a few years ago, I asked her if Luna was ever a possibility. Once Toni told me the process of creating Luna, neither of us thought it could ever be possible. Not only is the actual processing of mixing & creating Luna labor intensive (taking atleast 3-4 days to make), the making of the main ingredient of Luna (organic red wine lees and red wine that's made in house) also takes a lot of time (half a year) and planning.
But then, a couple of years or so ago, Toni said that she had the logistics in place. So, if I ever wanted to showcase Luna in a box, we could (we'd just have to plan it in advance so Toni had enough of that year's red wine allocated for our wonderful subscribers). Obviously, I was over the moon at the possibility because Luna is such a glorious thing! I'm so grateful to Toni for making it happen. The freshly made Luna (and Eternal Milk) are on their way to us and will soon be on their way to you.
By the way, this year's Luna is crafted from Nebiolo, Barolo, and Montepulciano red wine grapes.
2. Eternal Milk Vitamin Peptide Treatment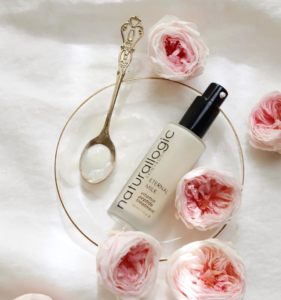 With this deliciously elegant Aloe & Rosewater based serum-milk, Toni has created a Multivitamin drink and a peptide party of sorts for the skin! There's Vitamin B3, Vitamin B5, Vitamin C (in a stable ester form).
This beautiful formulation contains both impeccably sourced lab-synthesized peptides as well as well-researched, naturally derived plant-based peptides. Such a beautifully rounded serum that my skin just can't get enough of.
Peptides are short chains of amino acids that serve as the building blocks of protein like collagen & elastin. Not only that, they can also serve as signals that stimulate the production of proteins or inhibit the degradation of proteins. In the context of the skin, this would mean that certain kinds of peptides can stimulate the production of collagen & elastin fibers (signal peptides), or inhibit the degradation of collagen (enzyme inhibitor peptides). Certain peptides can also calm inflammation in the skin. There are roughly 4 kinds of peptides in skincare: Signal peptides, Carrier peptides, Neurotransmitter inhibitor peptides & Enzyme inhibitor peptides.
In Eternal Milk, Toni uses a Peptide Complex comprising of Tetrapeptide 10, Tetrapeptide 21, Hexapeptide 1, as well as hydrolyzed plant proteins (aka peptides) from White Lupine, Green Pea & Sacha Inchi to stimulate production of collagen & elastin, decrease roughness, & boost the strength, firmness, & suppleness of the skin.
Tetrapeptide 10 is a signal peptide that is designed to improve skin suppleness by improving not just the quantity of collagen but addressing the quality of collagen in the skin. Tetrapeptide 21 is also a signal peptide that helps stimulate the skin's production of collagen & of hyaluronic acid. Hexapeptide 1 is an interesting peptide that has a calming effect on the skin, by helping the skin fight against environmental aggressors. It also helps even skin tone.
Eternal Milk also has some beautiful botanical extracts like Gotu kola, Hibiscus, Korean Red Ginseng, Date seed extract, and more!
Gotu Kola is a staple in Traditional Chinese Medicine, Indonesian medicine as well as in Ayurveda (Gotu Kola is also known as Brahmi). It is rich in amino acids, beta carotene, fatty acids, and numerous phytonutrients, and Toni uses it in this formulation as it improves clarity and firmness of the skin.
Date seed extract is a lovely ingredient that is calming, soothing, & anti-inflammatory. It helps slow down the appearance of aging by extending the life of skin cells and protecting against oxidative stress. It also brightens and hydrates while increasing elasticity and smoothing fine line.
So, now that you have the Naturallogic box in all its glory, imagine this:
Slather your face and neck with Luna. Then, while sipping on your favorite drink that aids Luna in slowing down time, make or eat a creamy risotto (I finally found a local restaurant that makes an amazing Risotto that totally hits the spot—a Red Wine + Beet Risotto no less). Forget that you even have the mask on as it works it's antioxidant magic while you curl up on the couch with Tove Jansson's The Summer Book.
There are two ways to take the mask off, depending on the final result you are after:
For more moisturized skin, rinse with warm water & lightly pat dry.
For less moisturized skin, remove with warm water & a cloth.
For a really minimalist routine, especially during summer (or if you have oily skin), you can follow the mask with just 2-3 pumps of Eternal Milk and be done!
However, this is how I do it:
Mist my face with a hydrating face mist or apply an essence.
Apply 2-3 pumps of Eternal milk onto face and neck and breathe in its delicate rose water scent.
Apply 1-2 drops of an oil while skin is still damp.
Seal in with a cream or balm.
We have listed few of these as one-time boxes here.
Here's hoping that these products make you feel the essence and decadence that I experienced. I would love to know your thoughts!