Inspired by an early Pink Floyd album, the August Beauty Box is themed, A Saucerful of Skincare Secrets.

And, inspired by the beauty box, I have this poem for you.

~
There is a thing in me
That dreams of trees
Just like Mary Oliver said.
Tell me about despair, yours,
and I will tell you mine, she said.

Often to see the future
You have to slowly climb that tree
And smell the green green leaves
And watch that branch wave free.
And perhaps in the distance
You will see a silver sea
Seaweed on the shore
And cups of rooibos tea
And a soft voice that whispers
I will rescue me.

There is magic in a memory
That binds you to the past
But also magic in realms
With a futuristic cast.
Put those things together
And feel that magic last.
The possibilities, I might add
Are just endlessly vast.
~

The August Beauty Subscription Box features two incredible products from one extraordinary brand: African Botanics. It is a brand that we first introduced our subscribers to, in 2018, and that continues to be a firm favorite as it marries the wisdom of nature, carried by culture, with the most cutting edge skincare technology perfected by science. The products have rescued my skin time and time again.
1. African Botanics Silver Rescue Cream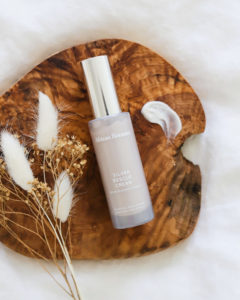 Silver Rescue is a soothing, anti-inflammatory healing cream that I adore using as the last step in my skincare routine (day or night). It's especially lovely over retinol. It helps with reducing redness & inflammation, improves skin barrier function & relieves the signs of skin stress.
This thoughtfully formulated potion is a panacea for stressed skin, designed to work for all skin types & states and especially for sensitive skin or any skin that is experiencing the effects of environmental stressors. It is wonderfully anti-inflammatory & soothing. It helps calm and revive the skin with an extraordinary blend of protective plant extracts like Resurrection plant and Devil's Claw that are rich in Glycosides, Phytosterols, Flavonoids, Trehalose sugar, Polysaccharides, and Arbutin which helps regenerate the skin, quickly hydrating it to minimize Trans epidermal water loss (TEWL). Baobab fruit, Vitamin E, Squalane, Marula Oil, Rosehip, and Marigold extract help to protect the skin & reduce skin reactivity and redness. It is such a wonderful cream to have in your skincare arsenal whether you may need it as soothing after-sun skincare, or in the transition between seasons, as it straddles beautifully, the changing needs of skin.
2. African Botanics Eye Contour Gel-Serum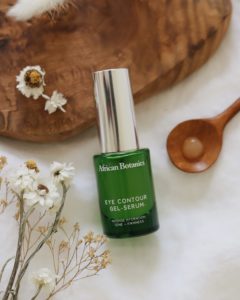 This past year, so many people have asked me for a recommendation for an effective under-eye product & I have had to try very hard not to let the cat out of the bag. So I'm excited to finally tell you all about this beautiful eye serum that will be in this box!
This is a gel-textured serum & you need the tiniest amount to smooth under the eyes & over the eyelids. For me, it very quickly has a de-puffing & tightening effect with long term benefits including addressing fine lines & wrinkles, as well as loss of firmness & elasticity in the eye contour region.
I'm rather finicky when it comes to under-eye products. I need them to be effective but not irritating, nourishing but not heavy. And this one is incredible! It is a concentrated cooling gel-serum for the under eyes and the eye contour, that targets the appearance of puffiness, dark circles, fine lines, and wrinkles while visibly soothing, tightening, and reinforcing the barrier function of the skin. The ingredient list reads like a master class in skincare with Ceramides, Oligosaccharides, Yeast Beta-Glucan, Vitamin B3, Vitamin C, and fucoidan-rich Seaweed extract. These help plump & deeply moisturize while supporting the synthesis of epidermal elastin. Caffeine, Arnica, Copper, and Dragon's blood extract help drain, revitalize, and activate microcirculation reducing puffiness and dark circles. I notice very quick depuffing & tightening of the skin under my eyes. It also contains a very intriguing ingredient: Bulbine frutescens, a unique, perennial plant native to South Africa. It has been used by the indigenous people for centuries for its healing properties. It is a succulent with a gel-like sap (like Aloe) & this sap has wound-healing & anti-inflammatory properties & has been used for generations to heal everything from insect bites, burns, to blisters & skin irritation.
The retail value of this box is $310!
I would love to know your experience with these products!